He's forty!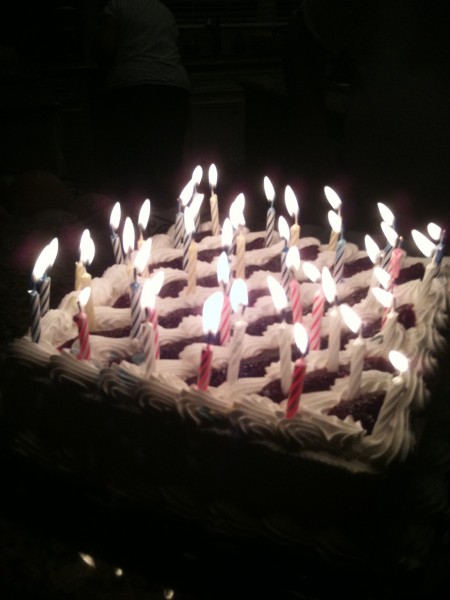 I love my soulmate more today than I did when I T.W.I.R.P.E.D. him (the woman is required to pay) more than 16 years ago. (I took him to a place called Trail Dust, where two-stepping is required. I didn't know how, so he taught me, of course. Who says I'm not smart??)
1. He forgives the way I load the dishwasher even though it drives him crazy.
2. He understands and supports my meaningful relationship with sweet tea.
3. And brings it to me often.
4. He is an amazing dad-and can get his kids riled up right before bedtime like any good father.
5. He sang to me on our wedding day (surprise!) and still sings me love songs in the dark of the night.
6. He still calls me KC (his nickname for me in college).
7. He wears a cowboy hat every time we visit his parents farm.
8. And sometimes chews on a piece of straw from a hay bale.
9. He helps my daughter with math word problems.
10. And forces himself to play video games with our son.
11. He lets the dog sleep in the bed with us sometimes.
12. He works hard at his secular job, even when his heart longs to work for God.
13. Most days he works for God on his secular job.
14. He cleans, I cook.
15. Occasionally, he does both.
16. He reads my blog.
17. He encouraged the writer in me when no one else did.
18. He makes every copper necklace we sell at The Mercy Shop.
19. And loves bending metal.
20. He traveled to Africa with me in spirit and let it wreck his life too.
21. He is a dreamer.
22. And encourages big dreams in me.
23. His heart is made of gold.
24. He is my hero.
25. He eats my cooking.
26. And never compares it to his mothers.
27. He is a nice man.
28. He is a good man.
29. He is mine.
30. He's not afraid of bugs or snakes or sounds in the middle of the night.
31. He texts and calls just because.
32. He gave Maureen her first father-hug.
33. He leads our family in prayer and Bible reading at dinner.
34. He carries my purse when it's too heavy.
35. He helped me build The Mercy House site from scratch -a huge endeavor for us!
36. He hands me a tissue when I cry for no reason.
37. He loves His Savior
38. And his family,his life
39. And his wife!
40. He pretends to be surprised when the kids pull out the silly string. And he enjoys it!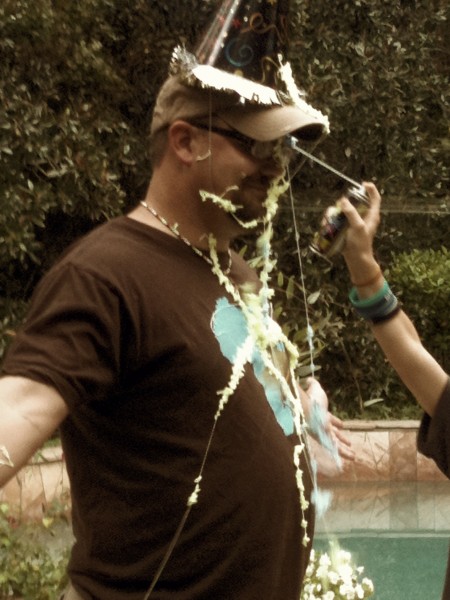 Happy birthday, honey!
P.S. I have a new post at The Mercy House site with an update from our amazing launch last week.