Last week my hubby walked thru the front door after work, right past me and the kids and into our bedroom.   I'm pretty sure he hugged our new mattress hello and then kissed us.
And I really can't blame him. I get giddy when I think about going to bed. I've developed quite the relationship with my new mattress.  And when I think about sleeping in a hotel or at family's house, I shudder. I think the word I'm searching for is spoiled (and so, so thankful).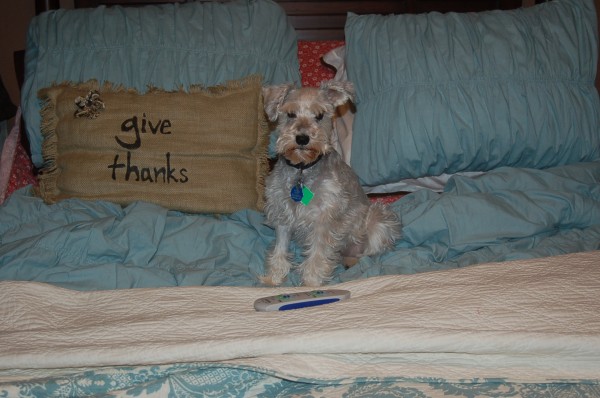 [Even the dog is thankful and a little stingy with the remote]
And now, I get to help spoil someone else! Thanks everyone for voting and cheering on our Tempur-Pedic TEMPUR®-Contour Signature and the TEMPUR Advanced Ergo System® finalists!
With thousands of votes coming in, #6 received the most votes (by more than 200).
Congratulations to future sleepy head, Tammy of GreekGRITS!!
Disclaimer: I'm beyond excited and thrilled to be a part of this Tempur-Pedic campaign and giveaway ! Although I'm being compensated for this program, the opinions are mine. I'm also happy to say that Tempur-Pedic chose my blog for this campaign because of  my involvement with Mercy House. The monetary compensation from this program will be given to Mercy House. But I'm gonna keep the bed. And it just doesn't get better than that!