Congrats to Gena!
Random Integer Generator
Here are your random numbers:
115
Timestamp: 2011-11-30 14:43:47 UTC
"Mommy, why is there Christmas in the store?" she asked me the week before Halloween.
Good question.
How do you explain a Holy Day our world has commercialized beyond recognition to a 4 year old?
I've learned that I can't leave it up to the world to tell my children the true meaning of Christmas.
Even more, I can't leave it up to The Church.
It's not their job to explain what's in the Bible or the meaning of Christmas.
It's mine.
And I've recently discovered an amazing tool that can come along side and help me teach them well. From the makers of Veggie Tales, it's What's in the Bible?
We have a couple of the movies and music CDs. They songs are catchy, but the message is eternal. My youngest loves them!
And they have a brand new DVD called Why Do We Call It Christmas?
[Click play to watch this 5 minute excerpt]
Cutting down trees? Hanging stockings? Santa Claus? What do any of these have to do with Jesus' birthday?  More than you'd think!

Join VeggieTales creator Phil Vischer along with intrepid newsman Buck Denver and all his friends on an amazing journey into the world's most popular holiday! Sure, you know the Christmas story. But do you know the story of Christmas?

Don't miss the whimsical, educational, Christmical party to end all Christmas parties as Buck Denver Asks …

Why Do We Call It Christmas?

Run Time: approx. 60 minutes
The What's in the Bible? DVDs are usually $12 each. This holiday season, click here and you can buy the first five DVDs PLUS the Why Do We Call It Christmas? special for $37.95 (for six inspirational DVDs). Nearly half off the original price!
And today, I'm giving away a SET of the six DVDS to one lucky reader.
Please visit here if you'd like to learn a little more and then leave a comment on this post if you'd like to be entered.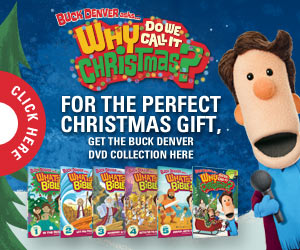 [This post contains an affiliate link, but the opinions are 100% mine and I've got the cute kid singing the catchy songs to prove it!]
Updated to add: There is a $9.95 shipping and handling fee with this set, so your total price shipped is $47.90 if you choose to buy the set of 6.