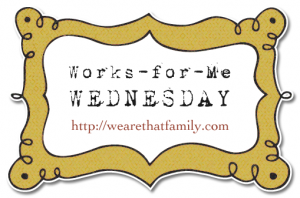 If you're not quite ready to turn your kitchen table into a giant chalkboard, this idea might be for you. Although I may do this too!
I read this idea in the latest edition of Thriving Family, a wonderful FREE magazine offered by Focus on the Family.
Provide a clean, write sheet or tablecloth and fabric markers….have your kids, family, guests, each write something they are thankful for or draw a picture. Make sure they date it. Each year add to it…
[I love this version I found on Pinterest where the hostess went back and embroidered over the names. I would never have the time to do that, but it doesn't mean I can't dream]
Don't you love it?
Easy, affordable and inspirational!
What works for you?