My 9th grader mentioned another project that was due before the end of school and we both just rolled our eyes and sighed. There might have been some nervous, hysterical laughter even.
The second grader in the house handed me a huge stack of papers in her neglected homework folder while we sped to carline. Her look of disdain was dully noted. I should probably take a look at those sometime.
My son hit snooze on his alarm 3 mornings last week. One day he got ready for school  in 9 minutes.
I'm pretty sure he left the house with only one shoe on. I tossed a granola bar at the back of his head.
Yeah.
We have 11 days of school left. Can you tell?
I don't ever want to make lunches again. Why is sandwich-making so hard??
There's all the opening and spreading and assembling. It's just exhausting.
And then there's getting my 2nd grader off the bus. I have to go outside. Why is our driveway sooo long?
Stick a fork in me.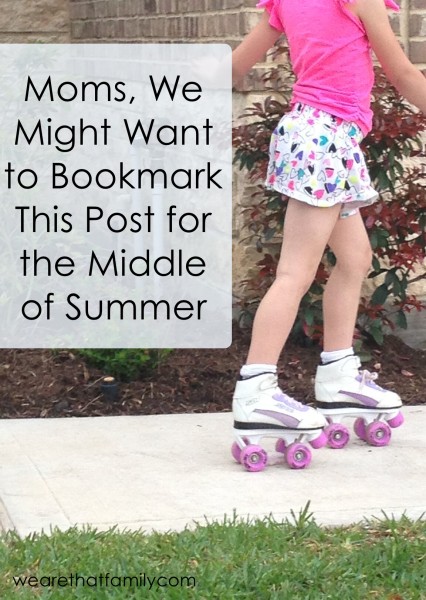 I know we are in the homestretch and every end of the school year, I feel this way. I keep rereading Jen Hatmaker's post and the hilarious comments and I know I'm not alone. Solidarity, right?
The first couple of weeks of summer are amazing. We turn off the alarms, the kids sleep late. We pull closed our favorite room darkening curtains to help their bodies get more rest because we think only of the children. There's a lot of laying around and few expectations. We swim and go to the park and fire up the bbq. We make summer bucket lists. We wear flip flops every day.
But moms like structure and we get twitchy when our kids stay up all night and want to sleep all day. So, we start slowly with a requirement or two. Like maybe get out of bed or get dressed today. You know, baby steps.
We take their resistance in stride. But we secretly change the Internet and Netflix password and hand them a list of chores in exchange for the new codes. It's parental blackmail and totally legit.  This isn't our first summer, ya know.
We hit a high in the summer and we are just so grateful for all the freedom from routine and schedules and togetherness.
Then Summer Transition Happens.
We all remember that first whine, the first "I'm bored," the first time our head spins around 3 times. It generally happens the first day back from vacation or summer camp or you know June 10.  It happens we're not entertaining! and delighting! our children all the time!
Moms know about summer retention level and TV brain cell loss, so we have a little family meeting called, "Reading Time Earns Screen Time" for our younger children and a beautiful program called "Get a job," for our older ones.  These are very popular programs with mothers. Every time a child complains we point to the weeds in the backyard and the stack of library books on the coffee table. We can smell their fear.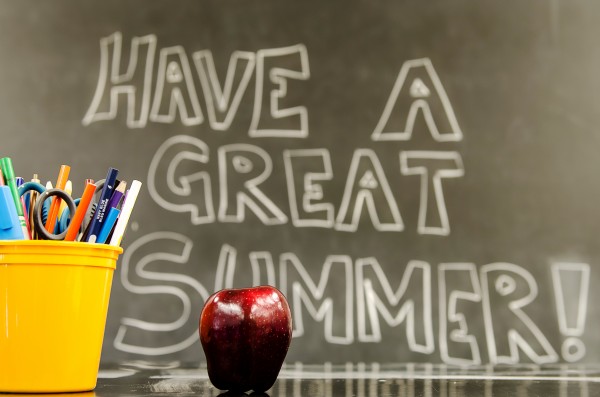 We love summer. We love our kids. We love the mix of both. But even things we love get routine and mundane. 
Moms perk up on our (escape) trip to Target when we catch the scent of school supplies in mid-July. Kids immediately feel nauseous. So weird.
By August first, we are eating popsicles for dinner and we are sending the kids outside and locking the backdoor behind them.
We are taking the shampoo and bar of soap to the community swimming pool and calling it bath time. And we pack the pajamas in the pool bag if we really have our act together.
The last 12 days of summer are a bittersweet countdown we love and hate at the same time.
A lot like these last two weeks of school.
So we try to do the impossible, moms: We try to enjoy every moment-those last days of the school year and the fleeting days of summer. And all the ones in-between that make us crazy.
Because we know they all end.
And begin again.