Guest post by my long-time friend, Mary Carver
A note from Mary: My friend and co-author, Sara Frankl, passed away in 2011, but she is still teaching me about choosing joy and facing every day with courage, no matter what life throws at us.
When I read her blog years ago and when I re-read her words recently, I was amazed and moved to read about the incredible strength Sara drew from her faith. That inner strength allowed her to withstand immeasurable pain both physical and emotional — by trusting God's plan for her life and choosing joy through it all.
——————-
I found a little treasure on the DaySpring site that I splurged on simply because it spoke to me. Based on Matthew 22, it reads, "Become all that God intended you to be. Love Him. Love People. Love the life you've been given." It sits by my bed so I see it all day – the words I want to live by. And while I could write volumes about each little part of each sentence, the word that continuously jumps out at me is "intended."
God has an intention for me. My life here is not random.
Soak that in a minute. You aren't here just to get through life. You're not even here to succeed with your plans in life. No, you're here to fulfill what He has intended for you.
It changes things, doesn't it?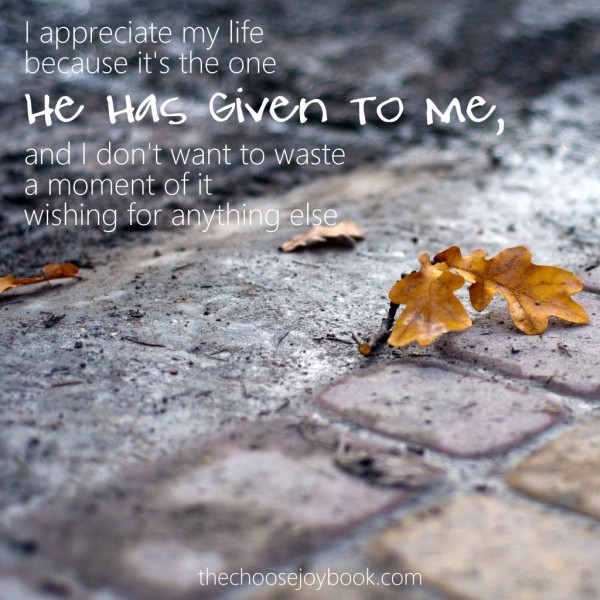 I find myself looking at every moment and opportunity differently now. Life isn't about what I am in the mood for or what can fit into my day. Life is about being open to what He may need from me and what He has intended for me to notice. I'm here to keep my eyes and heart open enough to be aware of the moments in which He has intended for me to act.
Do you know what else it made me realize? That if He has intentions for my life, and has seen all that has happened and will happen, I don't have to worry about how I'll make it through. Because if I am still on this earth, it means He has intended for me to do something more. If I didn't have something more to do, He would reward me by taking me home to Him.
And that means He already knows I can make it through another day of this pain and illness. It means He already knows my family will survive the loss of my Dad. It means He already knows I will survive whatever crosses my path today because He has intended for me to fulfill His purpose yet tomorrow.
I am a survivor. Not because I am strong or willful or unique. I am a survivor because God has intentions for me, and as long as I am here on this earth I have a job left to do. He saw that I would be sick, He saw that I would be devastated, He saw that I would feel weak – but He put me in this life because He also saw I would fulfill what He intended.
All I have to do is remember that this life isn't about me. It's about His intentions for me. If I trust Him with all of it – past, present, future – then He will make sure I am in the right position to fulfill all He intended. And He'll do the same for you.
Excerpt, Choose Joy: Finding Hope & Purpose When Life Hurts by Sara Frankl & Mary Carver
——————-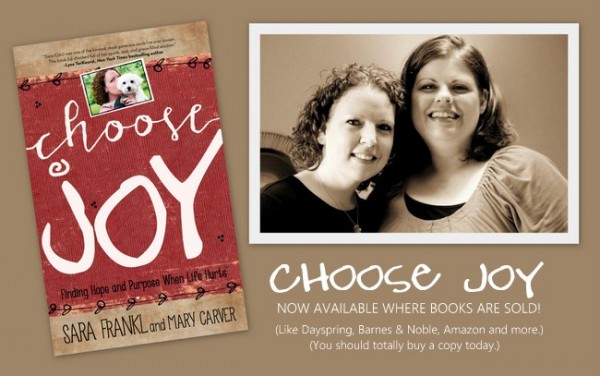 Sara Frankl knew she had a terminal disease, but she didn't let it stop her from living. In the face of immeasurable pain, Sara chose joy—again and again. Her unforgettable message of hope and purpose lives on, even after her death, in her words. Choose Joy: Finding Hope & Purpose When Life Hurts is a compilation of the lessons Sara learned while she was dying, written in her own words and sewn together by her close friend Mary Carver. It is a reminder to see the beauty in life, even when it looks nothing like you hoped or planned. To learn more about CHOOSE JOY, visit TheChooseJoyBook.com.