"Fast fashion often means slave or sweatshop labor."
As soon as she said the words, I had a sick feeling.
I've watched the documentaries about children the age of my second grader chained to a chair with a quota to fill. Weeks after, I couldn't stop seeing a little girl in bondage every time I saw mine in freedom.
I stood at the doorway of the guest house we were staying at in Ethiopia last month talking to a missionary friend who lives there. The beautiful Ethiopian women they serve created lovely jewelry for our June Fair Trade Friday boxes going out at the end of next week.
We were talking about empowering women through product creation and long term sustainability. The conversation turned to companies producing fast fashion that's cheap for us to buy, but cost the women making it long, back-breaking hours of work for pitiful wages.
"Yes, and now there's a popular clothing factory in Addis Abba. They are employing women for nearly nothing. And women are standing in line to take the jobs because they are desperate," the missionary told me.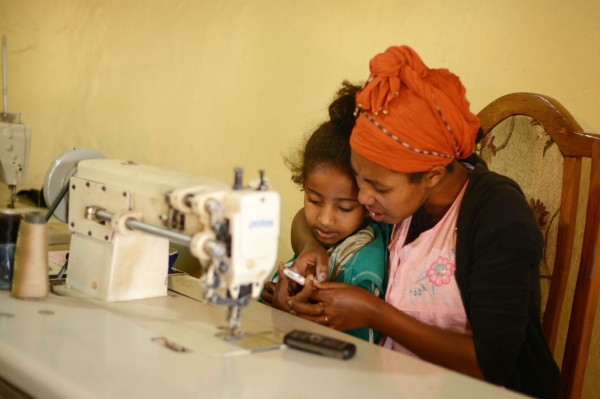 We had spent the day with Ethiopian women bent over a sewing machine, mothers desperate enough to sit at a sewing machine all day and all night to provide for their children if that's all they could find. But these women were filled with hope and opportunity.
We met the mother and daughter who make the thread from sheep's wool–
And we visited the home of the family that weaves that thread into fabric–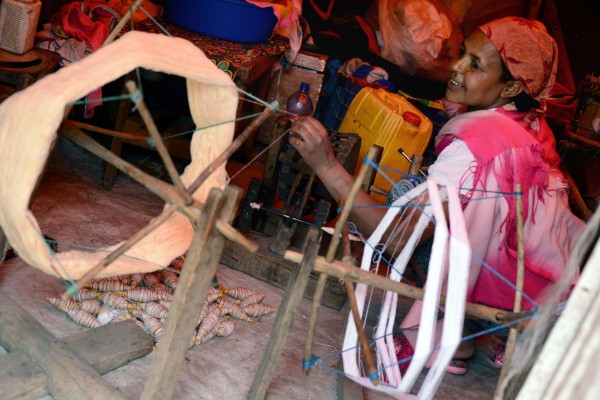 And we asked these women to sew that fabric into bags for Fair Trade Friday to buy…
We have seen the room they work in, we have touched the fabric they sew. We can guarantee the good working conditions. Because we know where the product is made.
But not every impoverished woman is that lucky. As soon as my missionary friend named the store she was referring to, my teenager looked up from her book and walked over to our conversation. I could tell she was listening closely and probably thinking of our visit to an H&M store last year in The Netherlands.
We had been exploring the old city on our layover our the home from working at Mercy House in Kenya. We had just visited Anne Frank's house and ended up in the shopping district.
My daughter asked if she could go into the big H&M on the corner and she ended up buying a cute summer dress, thrilled she had one of the latest European fashions.
After being exposed to the term slave labor on my trip to Kenya in 2010, I returned home a wreck and literally wore myself out trying to buy only fair trade items for my family. I wanted to be a conscientious shopper, but I went from one extreme to the other. I remember spending weeks searching for a pair of  fair trade black pants for my daughter to wear to her band concert. I ended up at Target with the pants I needed and with a lot of  unneeded guilt.
I finally acknowledged that I couldn't tackle everything and so I focused on my yes to God which resulted in starting Mercy House.
But I cannot ignore the thousands of women from India to China to Bangladesh to Ethiopia who literally slave over the clothes that end up on a rack for us to buy and eventually hang in our closet. And even though we are mostly powerless to stop it, we can educate ourselves to avoid the places we know don't hold to good working standards. But more importantly, we can also teach our kids (future shoppers) about redeeming consumerism.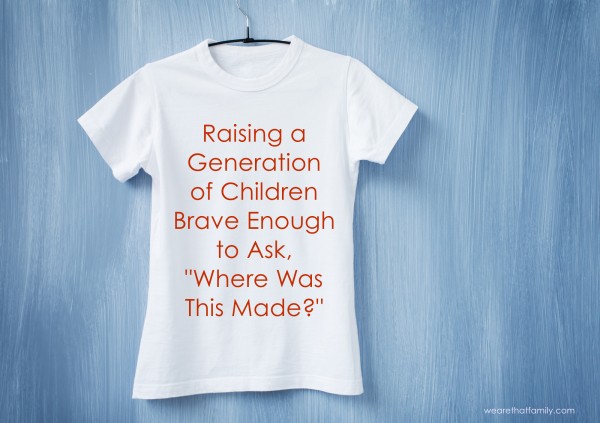 Of course, we can't trace every item we purchase. But we can avoid places we know offer unfair wages or poor working conditions. (<—–This 2014 list is shocking and I'm glad some of these companies are changing the way they do things.) And we can support places we know offer ethical choices, like this ethical kids clothing store.
Since that day in Ethiopia, my daughters have held up sale items in a store- the kind we would normally make a beeline for and asked, "do you think a slave made this?" While it's not exactly a normal question that leaves you feeling warm and fuzzy, it's an important one.
Because cheap and discounted don't always mean free.
"I don't know," I answered because I didn't. We walked away from the sale. We may not know the answer, but we can ask the question and teach our children to do the same.
A couple of days ago, my daughter was trying to decide what to wear on a day out when she said, "You know that sundress I have from H&M? I don't ever want to wear it again."
I reminded her we didn't know where it was made and that it was okay. I know we were both thinking about that moment in Ethiopia.
"I do now," she replied.
3 Ways to Redeem Consumerism:
1. Start somewhere. Ask questions. Research brands and stores. Avoid known fast fashion places.
2. Start small. Decide what area you want to be an educated shopper. Maybe it's chocolate or coffee since these are well-known products that don't always pay or treat people fairly. Perhaps it's in gift-giving…
3. Start today. Buy fair trade-it's a guaranteed way to trace your purchase. We are going to buy stuff. But when we choose to buy fair trade, we are giving a gift twice and empowering a woman in poverty. (That's another reason I love Fair Trade Friday. Every item comes with an origin and story card.)
When we buy fair trade, we are making a statement.
We are telling the world, we know where this was made.