It was an early Saturday morning when we loaded up the car and drove an hour to what we've been calling The Refugee Project for the past year. It's really just a government housing apartment complex- one of twenty-two that line both sides of a long street, home to more than 50,000 refugees, relocated to our city.
It's our Friday place.
But it wasn't a Friday and we weren't having class. Our husbands and kids  joined us to clean up the "clubhouse" and paint the place where our class has met the past year. It's a vacant, musty three bedroom apartment filled with an assortment of books, broken chairs, dirty tables and walls.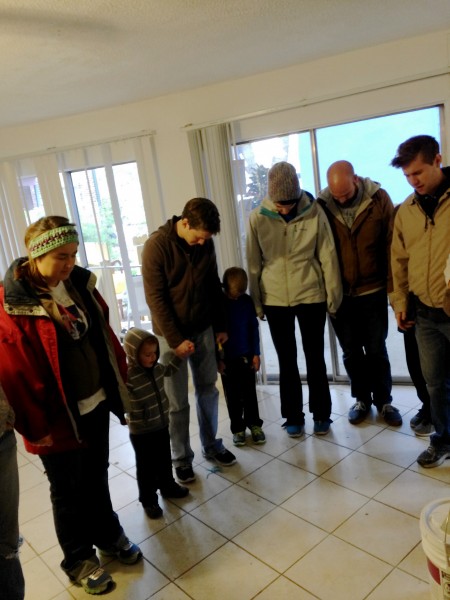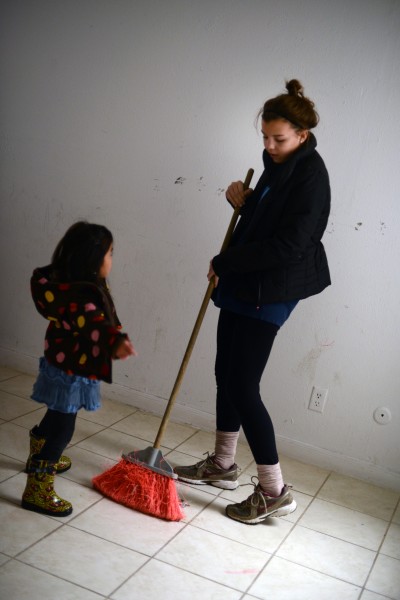 We were having a work day and it's a good thing because there was plenty of work. We sorted and scrubbed and swept. We filled holes in the walls and shelves with books. We taped and painted, mopped and moved piles of trash to the dumpster.
Everyone had a job. The kids wrapped more than 600 crochet bracelets onto cards with the word Thrive. It's our hope- that these displaced ones will find a place in Christ and thrive.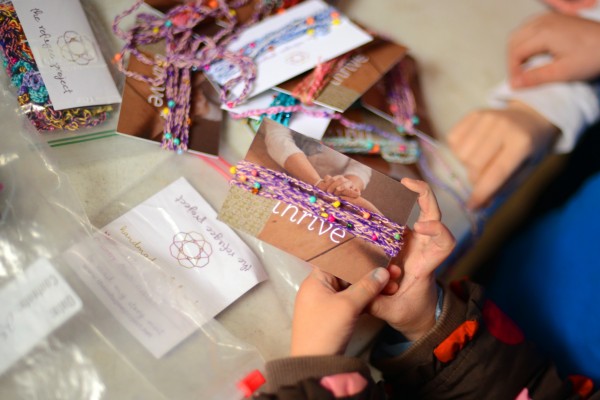 I looked around the apartment and smiled at my husband painting a wall. He hates to paint (at least that's what he tells me every time I ask).  I found my son wrapping bracelets next to my youngest winding yarn into balls. My teen was in the bathroom painting little faces and there was a long line of kids waiting their turn.
I stood in the center of that room and thought my children haven't complained once. They haven't ask for anything. They didn't think of themselves while they worked hour after hour. They found a need and filled it. And the next thought hit me so hard I had to pretend something besides a tear was in my eye:
My family is at its best-our absolute best– when we are doing something for someone else.
Purpose is deeply satisfying.
When our hands are busy serving others, we aren't thinking about what we don't have. Instead, we are reminded about what we do have. We were created for more than filling our time and lives with more stuff and more space. We were created for a purpose to live our lives with purpose.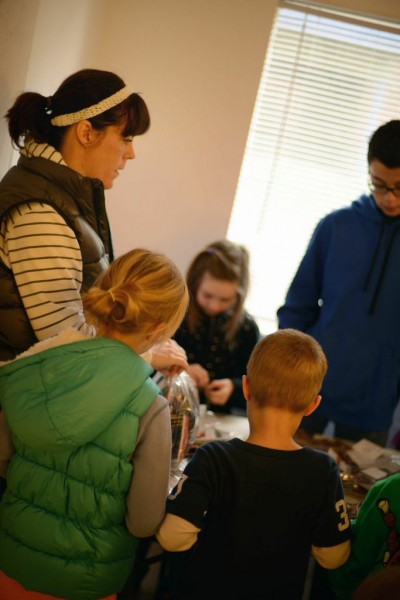 Do good.
The words are written on the chalkboard in our living room. And friends, even family, have cautioned against a "good works" mentality. I'm not worried. I know there aren't enough good things for us to do to earn our way into an eternity that's been freely given to us.
But I hope when you add up my works, the grand total isn't a list of good deeds–I pray the grand total is love.
"Love other people as well as you do yourself. You can't go wrong when you love others. When you add up everything in the law code, the sum total is love." (‭Romans‬ ‭13‬:‭10‬ MSG)
Because that's why we go. That's why we do. Love is a driving force.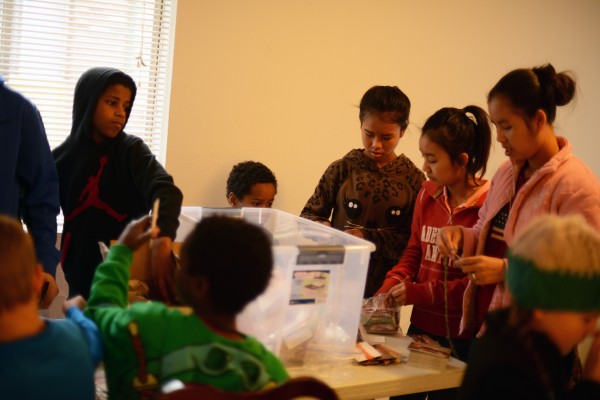 It was after 4pm when we piled back in the car. It was a comfortable kind of quiet as we drove home. Satisfaction was thick in the air.
I asked my kids if they remembered meeting the 16 year old refugee girl who helped us wrap bracelets. They did.
"She asked if she could learn to crochet too, like her sisters and mom and grandmother in our class," I said.
"Doesn't she go to school?" My 15 year old asked. I explained that she did, but she wanted the money for something special.
"She plays the cello and is very talented. She earned a scholarship for a music school, but she still needs money to make her dream a reality," I said.
The car was quiet and I thought maybe my kids were thinking about how much they love music. Or maybe they were thinking about the instruments they own and love or the opportunity to take lessons. Or maybe they were wondering how to help a girl their age do the same.
"Mom," my 12 year old son broke the silence,  "I loved today."
His words were thick with emotion.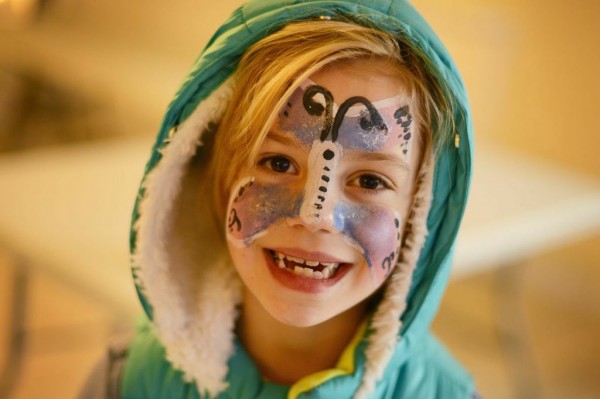 I think we were all created to answer this question: What can I do that matters?
As a parent, my job is to lead my kids to ask it.