Twenty-four hours after I recovered my blog Facebook page from a malicious hacker, I was ironing wrinkles out of my 13 year old's light blue Oxford dress shirt so he could wear it to the funeral of his beloved archery coach.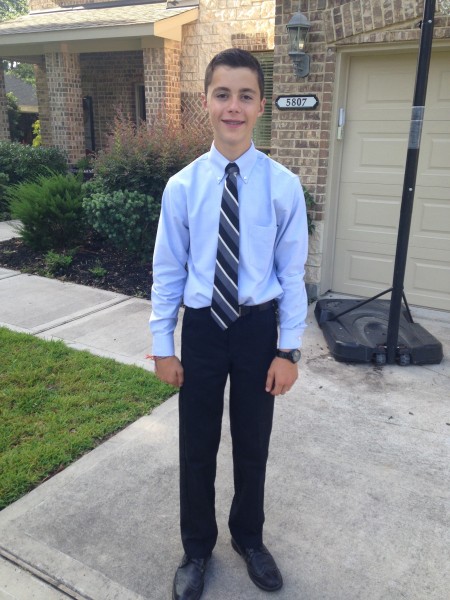 I swallowed down tears as I straightened my son's necktie, the memory of holding this almost 6 ft sobbing teenaged boy in my lap the day we heard the news, still fresh.
Nothing prepares you for parenting moments like these.
Nothing prepares you for the often sorrowful road you walk with your children.
And nothing makes our light and momentary problems seem more insignificant than this.
Life is hacked by computer problems and health struggles and bills we can't pay. Kids we can't tame. Ruined dinners. Bad days. None of us enjoy problems that break into our normal routine and leave us with out-of-control feelings.
But we all have the same problem in this life—and it's this:
Your problem is how you are going to spend this one and precious life you have been issued. Whether you're going to spend it trying to look good and creating the illusion that you have power over circumstances, or whether you are going to taste it, enjoy it and find out the truth about who you are." -Anne Lamott
Everything that matters most comes into clear focus when we view our life against eternity.
What if we stopped saying I would if . . .
I could if. . .
Maybe I should . . .
I might be. . .
What if we decided to live every moment of the rest of our lives with an urgency like today was our last?
What if we lived our days with purpose?
What if we turned our problems into opportunities to reach the lost?
What if we lived like we were dying?
On Saturday, I sat near the front row of a crowded church and listened to my brave boy read the letter he wrote his coach before he died. His coach's family asked him to read the words at the funeral:
Two years, seven months and two days ago, I was a 10 year old boy with a bow and arrows…and I didn't even know I had found my passion. I didn't know that my bow would lead me to meet such an amazing, kind and loving coach. The more I got to know you, the more I saw how much Christ's love was evident in  your life. . .But what got my attention the most was after being diagnosed with cancer … was how much you relied on God and lived your life with purpose.

The longer you lived through this cancer ordeal, the more your life reminded me of Philippians 1:12-18. The passage is about how Paul was imprisoned, normally a bad occurrence, and how good still came from it. Because he was in prison, guards and prisoners came to know about Christ. Even though Paul's circumstances changed, his purpose hadn't. It was just a change of mission fields.

You were diagnosed with cancer, but good is still coming from it. Every time I shoot an arrow, I am reminded of Christ's love that has been shown to me through you. You've taught me three lessons:

1. The closer you get to death, the more alive you should become in Christ.

2. Being generous is so much more fulfilling than receiving things.

3. Trials bring you closer to God.

I can't tell you how much I love you. . . 
I wasn't the only one crying.
Funerals are a good place to wake up and remember there's a reason we are still here.
There are people at our jobs, on our streets, in our lives who are lost and need Jesus.
And our real problem is what we are going to do about it.