While my teens were at youth camp this weekend, we turned our beige walls gray. And I decided to rehang all my favorite pieces of art and inspiration together to create a gallery wall.
Every time I walk in the living room, I smile.
It tells the story of our lives: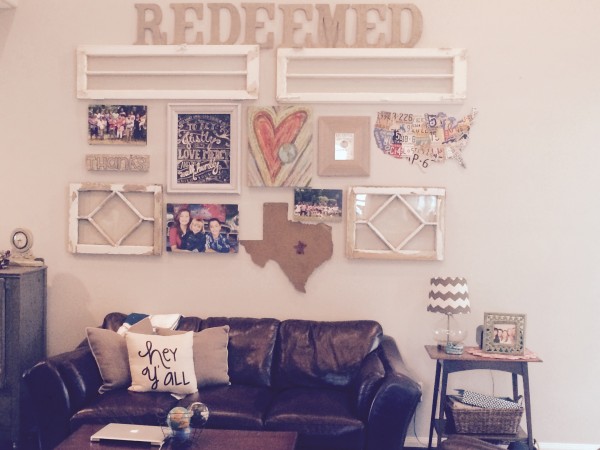 1. The REDEEMED letters are my motto. This is my family's word. We are a broken mess. But God.
2. The old white window frames are from a building that was being torn down in a town we lived in more than 13 years ago. It was a desperate season in our marriage and we've carried these old windows everywhere we've gone as a testimony of what God can do with something that seems useless.
3. A picture of the first 12 rescued girls at Mercy House. This picture is a constant reminder to pray.
4.  The word thanks underneath it. Because yes. We have so much to be grateful for.
5. This chalkboard art (that matches the tattoo on my foot) is one of my favorite verses.
6. It sits next to my favorite piece of art "Heart and Globe." I love this because it shows God's heart for the world.
8. An eclectic license plate USA map because we love to travel.
9. The first 12 miracle babies of Mercy House. When I doubt and my faith is shaky, this picture reminds me that He can make the impossible possible.
10. This is my favorite picture of my kids.
What inspires you? What's on your wall?