Fall is my favorite time of the year. I love everything about the changing colors, the cooler weather, the comfort food, and any excuse to wear boots. Oh, and I enjoy being outdoors with my family. The days are long, but the years are short. Let's make them count. Here are 25 meaningful ways to enjoy them (some affiliate links included):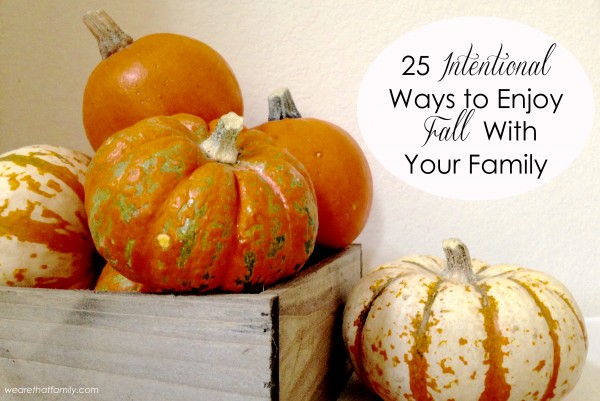 Our number one favorite fall activity for one-on-one time? We lay in this together. Oh my goodness. Every family needs a giant hammock. But an old blanket in the yard will work too. It's the perfect place to whisper and read books and be together.
Go on a walk, hunt for leaves, acorns and fall flare
Get outside-toss a football or chase each other. We gave this very fun outdoor game to my husband for his birthday. It's a favorite for all ages!
Create this [framed leaf art] or make a nature garland with your finds.
Have each family member write down what they are thankful for every night of November and put the secret notes in a jar on your table. Read them on Thanksgiving.
Make applesauce or something apple-y. Apple crisp, bob for apples, This little toolmakes it easy.
Read outside. (I love catching my kids doing this!) 
This activity is a huge Thanksgiving memory-maker.
Visit a local farmer's market. Eat fresh and choose a new veggie (our latest: Spaghetti squash. This healthy recipe.)
Invite friends over for s'mores. I love this s'mores in a jar idea!
Have your family devotion outside. (I love these printable family gratitude devotions for November) Anytime we can read a few scriptures or an inspiring story away from our normal routine, we engage so much more with our kids. Some days we lay on the trampoline or just take a long walk and talk.
Rake the leaves just to jump in them.
Go camping. I'm not much of a "happy camper." I love my bed too much. But we try and go at least once a year and I'm never sorry when we do.
Bake bread. Make bread bowl soup (kids love it!)
Create a family tree (get messy) fall hand tree art.
Go on a family bike ride.
Make and play the Gratitude Game
Collect acorns, put them in a simple jar and call it a centerpiece. Lovely.
Create a thankful tree.
Write in your Gratitude: A Journal
Visit an orchard and pick apples.
Bake a pie from scratch.
Take a family picture (I just told my husband I want to keep the tripod in the trunk for impromptu photos on some of our fall hikes)
Don't feel pressure or guilt to DO anything on this list. Just be together and be grateful.
edited post from the archives