I'll never forget the day my husband handed me a wooden box with a letter in it.
It was the same year he gave one to each of our children.
The book, Letters from Dad
, made a profound impact on him many years ago. It begs the answer to this question: "If you were to die today, what would your (wife and) children hold in their hands tomorrow that would let them know they were the treasures of your life?"
My husband has been answering that question by filling up our letterboxes and our hearts ever since.
He's written dozens of letters-some funny, some serious, all memorable. On our youngest's 8th birthday last month, she read the letter before she opened her gifts, giggling at his own second-grade memories.
Because we all understand the letters are the gift. Letters are free, they don't take much time, but they are absolutely priceless.
A few weeks ago as we celebrated our anniversary in NYC,  Terrell pulled me aside and read the following words to me.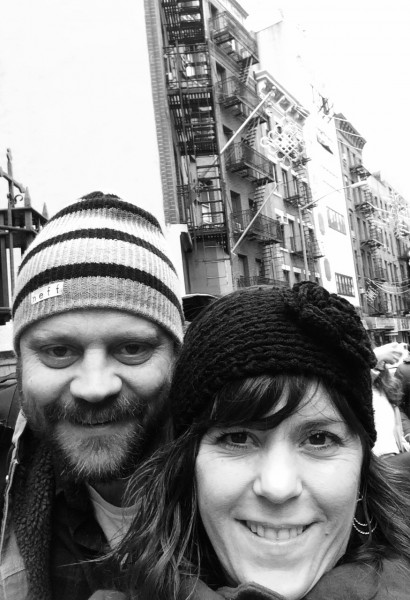 Less than halfway through, as tears dripped from my chin, I thanked God for this imperfect man who leads us and loves us so well.
He is giving us a beautiful legacy and today, I want to share it with the men of the world in hopes that you will give your wife and children the same gift.
Kristen,                                                                                               
I find myself overwhelmed. I can never do justice to the past twenty years in a letter to you. If I wrote a novel over the next twelve months, I would only be scratching the surface. The beautiful part is that I am not really the one writing this story. This is God's story and our story. You are my coauthor. One day, I can only hope that our kids drag these letters out of a dusty box and they understand that their dad loved their mom.
I do love you. You are beautiful! For more than twenty years you have been my best friend and confidant. We have traveled many miles and many roads together. When I married you, I married well. You are the one thing I have never quit or given up on. And God knows that you have never given up on me. It probably would have been easier for you if you did quit. But you didn't. Did I mention I love you? You're tenacious, bold, strong, tender, kind, humble, sexy, vulnerable, gentle, courageous, caring, loving, patient, brilliant, innovative, creative and on and on.
We have been to hell and heaven together. Actually we've probably made the round trip a couple of times.   I am humbled that you love me. Could a man ever ask for anything more than a good woman? Could a man dare hope to have a great woman? Well, I declare with my whole heart that you are an amazing woman and so much more.
In 1994, you said, "I do."
In 1995, you said, "I will," and we moved to Arkansas
In 1997, you said, "Let's take a risk," and we headed to Albuquerque
In 1999, you said, "I want to be a mother," and God gave us a daughter in 2000
In 2001, you said, "I believe in you," and we left the ministry
In 2002, you said, "Florida has got to be better than this," and we moved and it was worse, but God redeemed our time and gave us a son
In 2003, you said, "You're not a failure," and we moved to Texas
In 2004, you said, "God will provide," and I got a job in the Pharmaceutical industry
In 2005, you said, "I forgive you," and I saw the face of the Jesus
In 2006, you said, "God has given us grace," and our miracle was born
In 2008, you said, "I want to write," and the world met "THAT" family
In 2010, you said, "Yes," and God wrecked us both and we started Mercy House
In 2012, you said, "Now is the right time," and we moved and started over
In 2013, you said, "We have to tell our story," and the "Rhinestone Jesus" manuscript was turned in to Tyndale
In 2014, you said, "I believe in you," (Or maybe you said, "Help!") and I quit my job to run Mercy House
TWENTY YEARS.
It sounds unbelievable to even say it. Sometimes I wish I could smith words the way you do. I would smith until I couldn't smith anymore telling you how I love you. I would tell you in a thousand ways that you are a gift from God. I would write a hundred poems declaring your beauty. I would pen a million songs so that the world would know that I need you.
I still need you! I still want you. No one knows me the way you do. No one loves me when I'm not that loveable…but you do! For that and so much more, I love you.
Kristen Welch, I love you. I want you. I need you.
T.