Please, please watch this video of our beautiful daughter, Maureen. She came to America to tell you this:
We showed up at the Student Life Camp as they were unloading for their 9th week of camp. It was really amazing watching these college kids empty four large Penske rental trucks and set up for more than 1,000 kids. When I complimented one of them, they said, "Oh this is a small camp. This is easy."
Compassion had agreed to let us visit with Maureen and even though she was free to let others do her setup work, she asked our family if we minded hanging around while she performed her duties. (A true example of her heart and work ethic!)
We were happy to just watch and thrilled when they let us help. My hubby did a little drilling: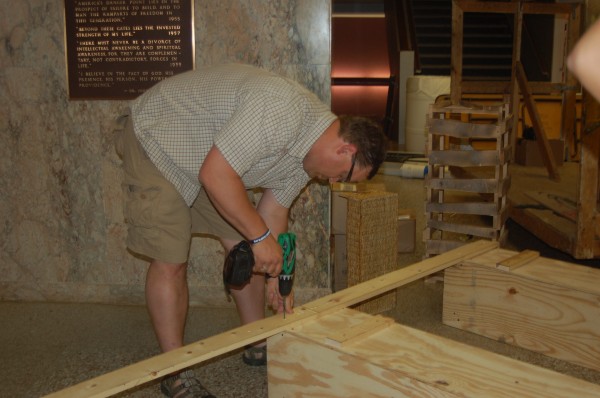 My kids helped with the packets of the children needing sponsors: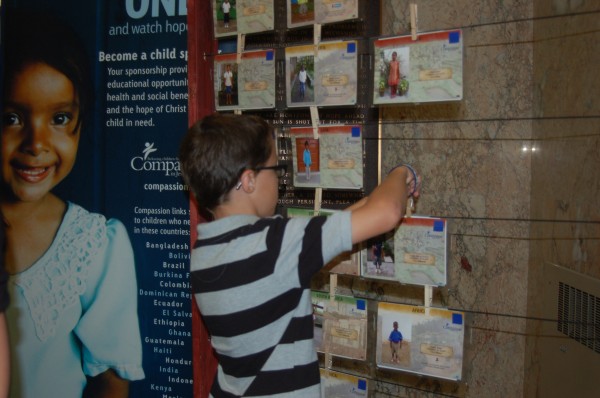 Everyone pitched in and constructed a replica home you might see in the slum, where Maureen grew up.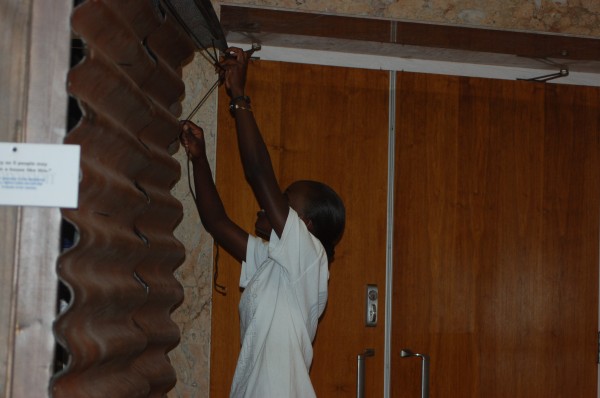 After she gives her compelling and touching testimony, she stands in the doorway of this mock home and answers questions.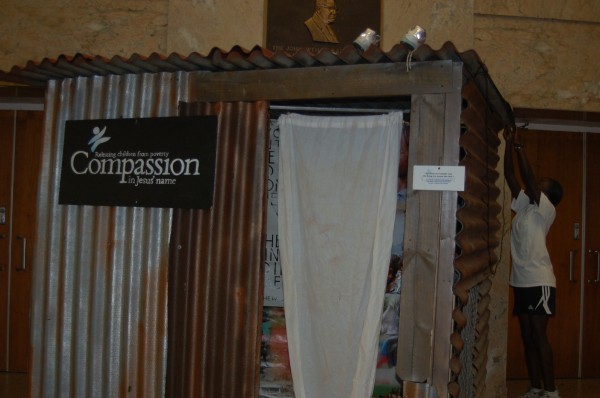 People are moved at the image of this beautiful girl who has been rescued from poverty.
As I helped Maureen hang some "fact cards" on the interior walls of the home, she said, "This would be a nice home in the slums of Africa." I remembered Vincent's home and I silently nodded my head.
Once the home was completed, our family of five gathered inside. The average size of a family in Africa is usually at least five and I wanted my kids to see what it felt like to live in such a small space: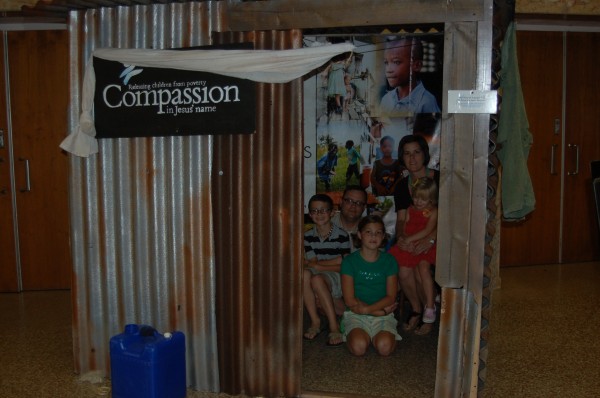 As I sat there with my family squeezed into the small, one-room dwelling, the nicest home on the block, I thanked God once again for His gentle reminder, this tangible example of perspective.
I'm pretty sure my family will never forget it.
When I met her in the slums of Mathare Valley, I knew Maureen was special. I watched her march into the heart of hell in her crisp, white satin blouse and heeled shoes and I didn't doubt for a minute that she'd been rescued from poverty.
But I didn't know that God would bind our hearts and our lives in such an unbelievable way. Just four short months after meeting in Kenya, our family drove to meet Maureen at a Student Life Camp while on vacation last week. Compassion and Student Life partner with the goal of child sponsorship and they invited her to the United States this summer to travel from camp to camp sharing her amazing testimony (and thousands of precious kids have been sponsored with Maureen's help!)
Through Facebook and email, we have become dear friends. But I wanted my family to meet Maureen. They fell in love with her and understood immediately why I fell in love with her and Africa.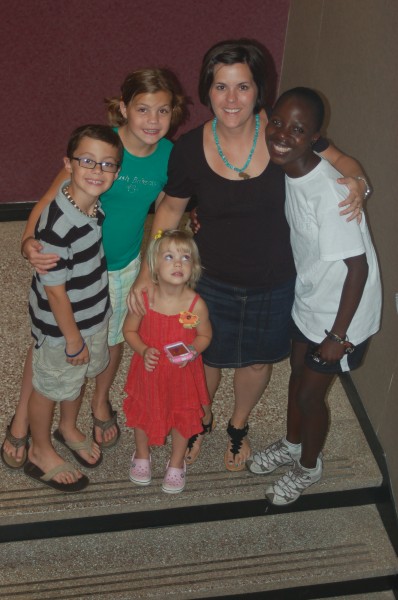 We spent 2 glorious days together, eating pancakes and bacon in our RV, italian food for dinner and a late shopping trip to WalMart. Maureen taught us a bit of Swahili, we taught her how to eat sunflower seeds. She called my children her siblings. She referred to me as Mom and we exchanged necklaces. She called my husband Dad. And I cried when I learned that this was her first hug from a "father":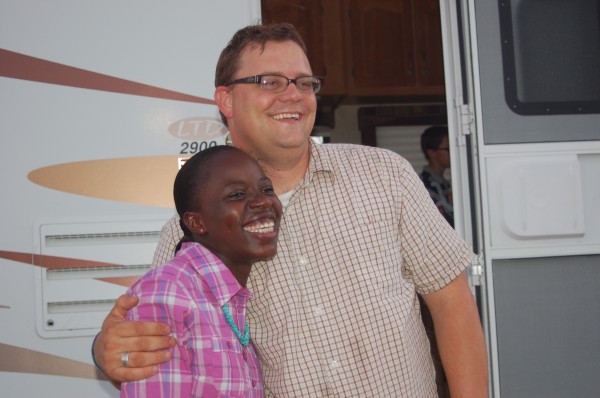 We laughed and prayed and enjoyed rich fellowship together with our new daughter.
God is slowly revealing a pretty amazing plan for our lives to be intertwined…
We will meet again.
*Updated to add: Maureen isn't one of our sponsored children. She is actually about t0 graduate from Compassion's Leadership Program and will graduating from the University in just a few short months.