It happened. Just like that.
My oldest is a teenager in high school and her brother is just months away from being a teen.
I love this season that has brought independence and humor, late nights and grown-up conversations. Its also ushered in an exhaustion that reminds me of the newborn days filled with worry and uncertainty.
When kids are little, we exert our authority over them. We can assert our will or at least put them in time out. But at some point, our authority decreases and our influence increases. It's shifts from telling them to do the right thing in front of you to trusting they will do the right thing away from you.
It's hard.
After a particularly rough parenting conversation the other day, Terrell and I were talking about this next phase– about the good we see and the challenges we will face.  I miss them being little, he said. And one day, we will miss this, I said.
Our kids are changing. And I can see that I need to change along with them. Every day our children move one step away from us and by this point in the journey, they feel like leaps towards adulthood.
Change is uncomfortable, but it's normal. And I can hold them too tightly and kick and scream to keep things the same or I can grow with them.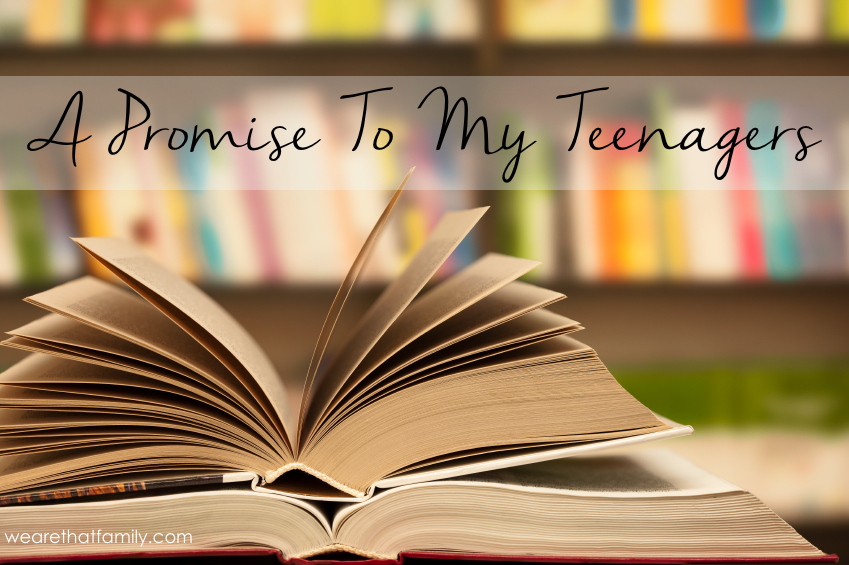 And so, I make this promise to my teens:
I will not beg, yell or force you to see things my way.
I will try to see things your way.
I won't ask you to do something I won't do.
I won't pick a battle over things that don't matter.
I will cry with you, even when you don't see my tears.
I will wait up when I long to sleep.
I will pray when I want to worry.
I will give you privacy, when I want to intrude.
I will let you sleep until noon (occasionally).
I will hush when I want to talk.
I will apologize when I am wrong.
I will trust you.
I will get in your business if you're in danger or if you make bad decisions.
I will ask questions that make you uncomfortable.
I will let you ask me questions that make me uncomfortable.
I will listen.
I will try to fight for you and not with you.
When the world expects you to fail, to fall away, to forget your roots, I will expect more.
And when you do fail, I will be the first one at your side.
I will love you no matter what.
Most of all, when I mess up and forget or break these promises, I will try again. We will try again.
No matter how tall you grow or how far you go, I am your mother.
I will be here.