Last week was one of those weeks.
You know the kind—
The upstairs bathroom sinks backed up, the garage door opener was struck by lightening, I forgot to turn the crockpot on for dinner, and then I was rear ended and front ended in stop and go traffic on the way to church.
I woke up to a stiff neck, a broken car, service calls and our annual Mercy House Gala a week away –all of which made my much-needed hair appointment impossible. I rescheduled and tried really hard to be grateful (but I really just wanted to go back to bed for a week with better hair).
Have you ever had a day or maybe a year like that?
Later in the week, I drove to my hairstylist's house for the makeup appointment. I met her at the last Fair Trade Friday Girl's Night Out and she had me at "I do hair in my house for half the price of a salon."
She finished prepping her dinner and we chatted before she got started. (I made a mental note of her recipe for chicken enchiladas). I told her a little about the work we do and we got to know each other while she worked her magic on my resistant grays. It was hair care ministry at its finest. Somewhere between starting Mercy House and becoming a parent to teenagers, my hair has turned on me. Literally.
We talked about a little bit of everything. Parenting. Marriage. Church.
I mentioned our upcoming Mercy House gala and all the stress that goes along with a big event and she stopped mid-rinse and said, "I know. Plus you had a car accident this week. I know you have a lot going on…And that's why I made you and your family dinner for tonight."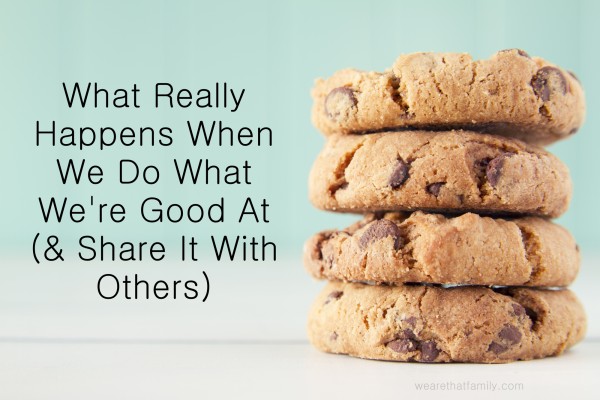 Excuse me? Did someone say dinner?
I caught her eye in the mirror and I was speechless. "Yeah, that big pan of enchiladas I was working on when you came in is for your family. There are homemade chocolate chip cookies, too. I just wanted to encourage you and I thought dinner would make your day better. Plus, food is what I'm good at."
And hair, I thought.
I didn't even really know this woman and I was completely humbled by her generosity, thoughtfulness and the unexpected way she chose to serve me and my family.
With the craziness of the day, I hadn't even thought about dinner. The kitchen isn't my sweet spot, but I could tell it was hers. My mouth was already watering. And my heart was full.
Maybe you're good at baking. Maybe it's opening up your home to others, sending handwritten notes in the mail, creating art, writing, singing, serving, or coloring stubborn gray hair. It could be a host of a hundred things or just one. It doesn't matter if it seems small or insignificance or unimportant because when you offer it to someone else, it becomes a gift.
Gifts are better shared.
When God created us, He instilled passion with us. And when we pursue what we are good at, it make us feel good. But when we share it with others, we make them feel good. And nothing feels better than that.
We have the opportunity to answer this question every day: How can I bless someone in my life by sharing something I'm good at with them?
I drove home with my rocking new hair and a stack of aluminum tins buckled into the passenger seat, and I felt lighthearted and mostly, encouraged.
Because that's what happens when people share what they are good at with others.