The musty room was stifling, a mixture of sweaty bodies and uncirculated air. I could hardly breathe.
The women were waiting their turn patiently, but the line was out the door. They pressed in closely towards the back of the room where we were buying.
We were purchasing (super cute) items for our upcoming December Fair Trade Friday boxes (we provide the supplies for free for those who attend classes). My friend Taylor and I always carefully calculate how much money to bring so we can buy something from every lady in the room. There are now 65 ladies in our class, so it's a lot of math. And even more money.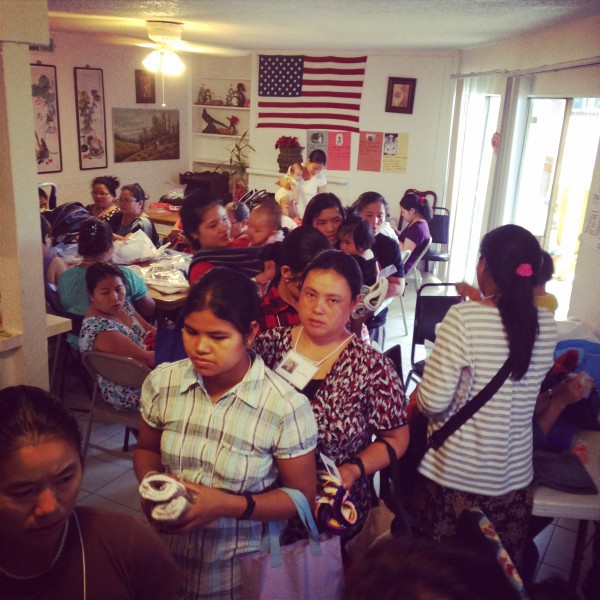 Once we get thru the line, the room fills up again and the women hold up their creations and Taylor buys items for the The Refugee Project Store. And no matter how well we plan, we always run out of money. The women bring bags of beautiful items and are eager to sell so they can buy necessities like diapers and toilet paper for their families since most of their factory incomes go towards government housing.
I finally opened a window to let the breeze in and I took a deep breath. The money bag was nearly empty and there were still more than ten ladies in line, mostly women from Burma. I quickly did some figuring and realized for the first time since we started this class almost a year ago, we would run out of money before we were able to buy something from everyone. There is a lot of racial division in the class among the different people groups and I knew this wouldn't help. Taylor and I looked at each other and tried to figure out what went wrong with our calculations. We asked the remaining women to wait on one side of the room, while the other side filled up with women who wanted to sell extra things they had brought.
The language barrier is huge and it's hard to explain that you have enough for some and not for others.
We didn't have time to get to a bank and we still needed $220 to buy from those still in line.
It was tense.
We asked the volunteers with us if they had money and we collected $222 from those serving in the room. I took a deep sigh of relief when we paid the last lady –with $2 to spare.
Taylor wouldn't be able to buy extra items and so we told the group of ladies with all their gorgeous scarves and practical dish cloths we were out of money and encouraged them to bring their stuff back to the next class.  By that point, I had a splitting headache and Taylor was crying.
Because changing the world for another person is a hard kind of beautiful. And some days the burden is overwhelming.
This is an Art Business Class. It's an opportunity for refugee women to learn a skill for free and earn a little extra money. It's education and business.
It's also community. And most importantly, it's an entry point for The Gospel. And we are beginning to see some beautiful testimonies of that.
But something unexpected happened in that stuffy room last Friday.
Usually at the end of the class, when we are out of money, everyone says their goodbyes.
But many of the refugee ladies sensed our stress, saw our tears, and watched us borrow money from our friends. And they responded. Not as customers or students, but as sisters.
One by one, the women took the beautiful scarves out of their bags and walked up to each of us–and placed them around our necks and hugged us, faces shining.
They had purchased the yarn and supplies with their own money and instead of waiting the next week to sell their creations, they turned them into gifts.
Multiple language barriers, racism, economic divides and am empty bank bag can't stop gratitude.
Taylor asked me later, "Do you think the women know that my husband and I spend hours each week winding yarn balls and selling their products? Do you think the young moms in Kenya and all the women empowered through Fair Trade Friday know how hard you and your volunteerswork?"
Probably not, I said.  God knows and that's what matters.
But with a lovely new scarf around my neck, I think I will change my answer.
Serving cost us something.
But the life-changing price of gratitude is worth it.
And even though none of us left with extra money that day, we were all a little richer.