I found the lump unexpectedly a little over two weeks ago.
In my abdomen, rolling under my fingers like it wanted to be found.
Fear covered me like a heavy blanket.
Terrell confirmed the golfball-sized mass and I made a doctor's appointment.
We have several friends battling malignant tumors right now and immediately my mind starting asking the "what ifs?"  I didn't realize how much I feared discovering something like this until I did and dread filled every corner of my heart.
I had to wait a very long three days for the appointment and I constantly pushed the thought I have a tumor out of my mind. I reminded myself over and over again that nothing had changed. God was still the same. He is writing my story and I love living it. I wouldn't change it, even though I don't know what the next chapter holds.
But y'all, I was so afraid.
My doctor confirmed the mass and was concerned at the size. She scheduled an ultrasound, blood work, and a cat scan in case the results showed abnormal tissue. Another long wait.
That night, I filled up the tub with hot water and played the worship song "You Make Me Brave" over and over.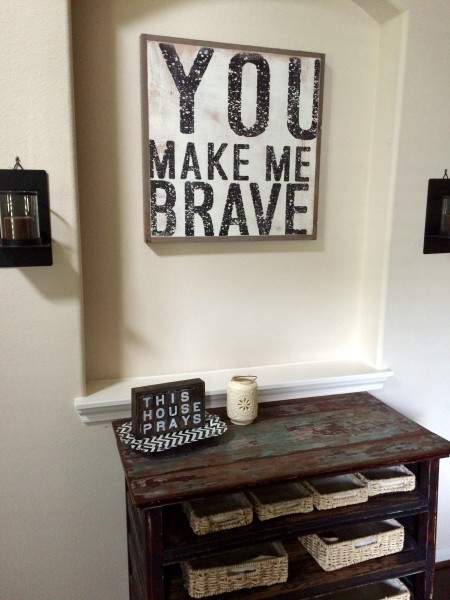 And I sobbed.
I did my best to act natural around my kids. I pushed bad thoughts away and continued to work and every time a negative thought entered my mind, I would pray. I've done a lot of praying lately. We went ahead with our scheduled Groupon trip to Washington D.C. (I can't wait to tell y'all about it) last weekend.
I'm not sure when my teen daughter developed a fear of flying, but her white-knuckled grip on my arm and panicked look in her eyes, told me it was real.
The flight to Washington DC was turbulent and I felt my stomach roll with the lurches, but my daughter felt more than queasiness, she was deathly afraid.
"I'm so scared," she whispered.
I tried to sooth and remind her that God holds us. Always. I tried to sooth myself with my own words.
"Don't you ever get scared, Mom? What are you most afraid of?" she asked.
I couldn't help but think of the paralyzing fear she didn't even know I was living. I've never been a brave person. I've always struggled with worry and doubt.
"I'm most afraid I won't be here for you and your brother and sister," I could barely get the words out.
"I'm not afraid of death, you know," she assured me. "Just the process."
I had to laugh a little. I love honest kids. "Me, too," I assured her. "Honey, sometimes we have to look fear in the face and remind ourselves God is in control. Someday, we just may face our greatest fear, but even there in that desperate place, God is with us. He loves us and He is glorified in our lives."
We survived that bumpy flight and had a mostly-worry free, fun getaway Easter weekend.
But every time someone commented on how tired I looked (which was more often than usual), I just smiled. But I wanted to scream "You would look tired too if you were dying!" (Women, let's not say that to each other, okay? It's really a passive aggressive way to say "you look really terrible." If we notice a friend who looks exceptionally tired, maybe we should say "Can I bring you dinner?")
Monday afternoon finally arrived, I faced my fear and as the ultrasound tech measured the mass visible on the screen, I prayed.
Tuesday, I waited for the doctor to call all day long. And as my fear mounted, I pursued peace. But I discovered one is easier to find then the other.
I don't think I knew how burdened I felt until I heard the doctor's words, "Kristen, this mass is benign. You're free to go to Africa tomorrow."
I cried at the instant relief. I thanked God. And I continued packing.
Good news. Bad news. We don't know what tomorrow holds. But we know who holds tomorrow.
I don't know why we go through scary times or just the fear of them, but I know God loves us and He is in control.
Today, my teen daughter and I are getting on another couple of planes and going to Ethiopia and then Kenya. We will be meeting with Fair Trade Friday partners and new residents at Mercy House and celebrating Maureen's newborn son. I hope you'll check back in to read the updates, see the amazing pictures and join us in our yes to God.
We are going to a country that is experiencing random terrorist attacks.We are both facing our fears because we know who holds us.
What scares you the most? Say it out loud. Leave it in a comment below. Name your fears and believe that He is greater than all of them.
Because He is. No matter what the next chapter holds.