Everything's bigger in Texas.
Including giving and wearing mums at high school homecoming football games. Have y'all heard of this crazy, often over-the-top southern tradition?
I don't think there's anything wrong with mums, it can just be excessive like so many other things in our culture. You could say I'm not a big mum fan. Pun intended.
But I'm not a freshman in high school either. And my daughter is. She casually mentioned her friends were wearing them to the upcoming Homecoming football game, some had boyfriends, others were making their own, and I couldn't help but note the longing in her voice. When she asked me what I thought, I said, "I think it's silly to wear one just because everyone else is. You're going to have fun with your girlfriends and the band. Why not wait to get one until it's special?" She agreed and we didn't talk about it again.
I never mentioned the conversation to my husband.
So, I was surprised two days before the game when Terrell whispered in the middle of the night how he was thinking about our daughter, "You know homecoming is this weekend. Our girl is nearly 15 and even though she won't be dating for awhile, I want to be the one to give her a first mum. I want to be her first date and show her how she should be treated."
Early the next morning before a long work day getting ready for the Mercy House Gala, my handsome cowboy went and shopped and brought home his first mum for his first daughter.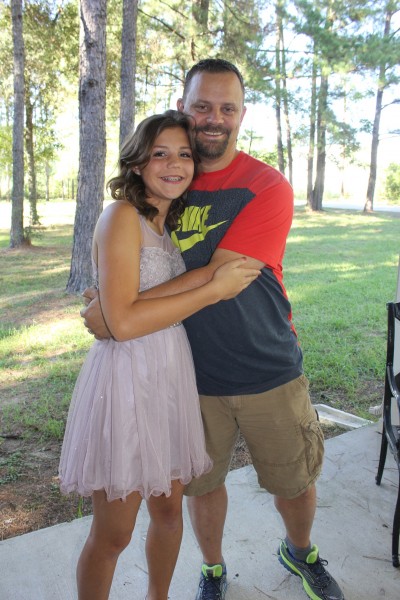 And when he walked into the house with the big maroon and white floral ribboned thing, I cried.
Because what I dismissed as a silly tradition, he saw as an opportunity to teach our daughter about love.
When he showed her and explained, she gasped and hugged him. And I'll never forget the look between those two. He said, "I want to be your first."
And she said, "You already are."
She ran off to text her friends and tell them about her dad's gift and she proudly wore it to school on Homecoming day. It's hanging in the closet because she wants to wear it again next year.
I fell in love with Terrell again that day. In the scope of our busy lives, this is a small thing. Unnecessary. Even extravagant.
Which is exactly why it was such a big deal to her.
A father's relationship with his daughter is one of the most crucial in her life. And while it may change from toddler to tween to teen, she needs him in every phase and stage.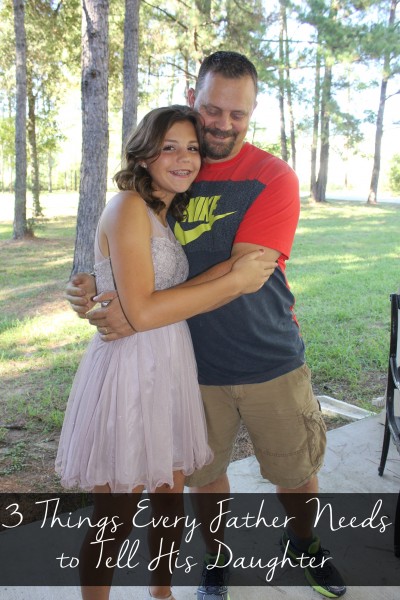 3 Things Every Daughter Needs to Hear From Her Father:
You can trust me| Daughters need to know that no matter how high their highs are or how low their lows are, Dad will be there. She is learning who she is and she's constantly changing. But knowing she can count on her father to listen and love no matter her mood, will help her confidence.
You're beautiful| The correlation between a girl's self esteem and her relationship with her father can't be denied. Even on her worst hair day, she needs to know her dad thinks she is beautiful. It's part of her discovery that true beauty really doesn't depend on fashion or a clear complexion. It starts with what is inside.
You're valuable | Value is not a message our culture will teach our daughters. Girls are treated like either owned objects or sex symbols in just about every corner of the world. She begins to understand her value at her father's knee. She needs her dad to tell her.
He made her day.
And that made mine.