Remember when you brought your first baby home and you didn't take them out of their carseat carrier all night because you were afraid if they woke up, you wouldn't be able to put them back to sleep?
So you just watched them most of the night.
No? Maybe that was just me.
I was terrified of that 8 pound bundle of baby joy. She cried loud, fists clenched, purple face and that was just taking her socks off.
I was new on the job, uncertain, inexperienced, scared and she was totally the boss of me.
I was a new mom, trying to figure out what my baby needed. I learned that first night that kids bring out the best in you. And the worst. And this classroom of sticky floors has taught me that God uses parenting to reveal my weaknesses.
She's gotten bigger and we've had our ups and downs. Our eyes have locked in the middle of stand downs. We've comforted each other, and loved our way back to one another. We have an imperfect relationship. I've learned a few things, but some days I feel like that new mom, trying to understand my teenager.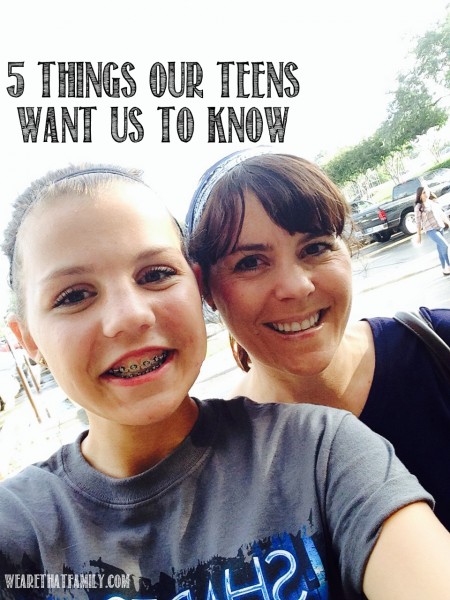 I still have a lot to learn, but I've discovered 5 things our teens want us to know:
1. They are tired, the exhausted kind: Every time I see another parent of a teenager, I ask them about their teen's schedule. And I get the same answer: it's brutal. We held off a lot of extracurricular activities when my kids were younger and I'm so glad we did. Because high school is a whole different game. My daughter is in marching band and she has very long days and is up more than 20 hours on game days. Even without this extracurricular, her academic work load is heavy and then there is homework and projects. We may not be the norm, but across the board, teens don't get enough sleep and they require more than most think. I'm cautioning her not to add more to her plate, letting her sleep in on the weekends, and mostly, acknowledging that she is tired and needs to rest.
2. They want time alone, but they don't want to be alone: Teens need space. They want a place to listen to music, read or just relax. I'm learning to give my kids this freedom to unwind. At the same time, teens don't want to feel alone in the world. They want to know we love them, we understand or we care even if we don't get it.
3. They thrive on change. Sometimes: The scene goes something like this in our house: "Mom, I love eggs. Can you fix that for my breakfast?" I stock up on eggs and by Wednesday, "I never ever want to eat another egg." And I'm like, huh? I read recently that teens thrive on change, but don't stay at one place long. It's part of their growth and development. Everything in their world is changing constantly–fashion and friends and they figuring out who they are. Remaining unchanged- a constant source of consistency will help them in this sometimes turbulent season.
4. They want you to look for the best in them, even at their worst: We all have horrible, bad, no-good days. I don't want someone to summarize or stereotype me based on one of these and we shouldn't do that to our kids either. Call it what it is and start every new day with a fresh start. Don't hang yesterday's bad day over their head.
5. They need you to try and understand their world: My favorite time of the day is at night when my older kids are in their rooms. After giving them some time alone to unwind, I like to enter their world, crawl on their bed and just wait for them to talk. They always do. I've learned important things going on in their lives when I'm quiet enough to listen. And I've discovered they want me to know them.
I love this time in my life with my teens. They challenge and inspire me. They make me laugh and sometimes, cry. We are learning together and making mistakes along the way. But I want them to know I'm on their side. I'm for them.
And sometimes, the best way to tell them is by listening to what they aren't saying.