She tried on every dress in her closet.
And then she moved to mine.
Nothing looks good on me, she said near tears.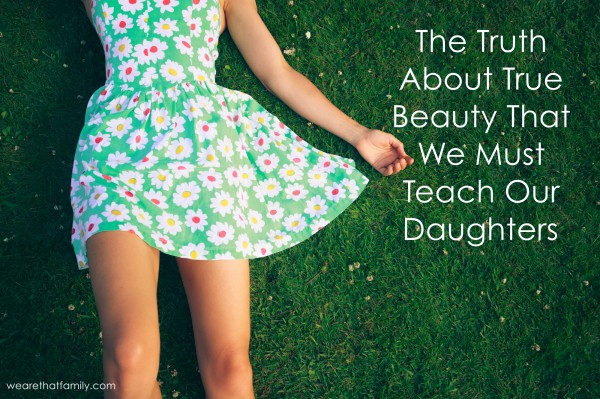 I wondered how we could both be looking at the same reflection and see something so different. I saw a beautiful teenager getting ready for the luncheon I was speaking at, but she saw much less.
She's growing into her own skin, discovering what she likes about herself and learning to accept things she can't change.
It's hard to be fifteen.
"Honey, that dress looks great. You look beautiful." It didn't matter how I said the words, if she didn't believe them.
I kept checking my watch. I didn't want to be late, but I really wanted her to go with me like we planned. It wasn't just clothes, it was imperfect hair and make up and just a bad day.  The harder she tried, the harder she was on herself and the clock was unforgiving.
"Mom, I really want to go with you. But I don't feel good about myself today and I don't want to make you feel bad about yourself." Sometimes the hardest part of motherhood is knowing what to say when your kids hurt. Especially when there just aren't words to take away their pain.
I tried to comfort her, but eventually, I had to leave. Puling out of my driveway with her standing there, a single tear trailing down her cheek was one of the hardest things I've ever done. Her choice made both of us sad, but I understood it. I still have days when I don't like me.
I pulled over at the next street and texted my husband, "Be gentle with her."
But he didn't see my message because when he heard her bedroom door shut, he was there, lightly tapping on it.
He waited. She didn't answer.
So he quietly opened the door without saying a word. She was sitting with her back against her wall, torn by her decision. My husband sat down next to our firstborn and put his arms around her.
She put her head on his shoulder and cried.
He held her and never said a word.
He didn't have to say anything because he already said everything.
By the time I got home, she was in comfy sweats with her hair pulled back and they were baking a cake together. Tears were replaced with teasing and I could tell she was feeling better about the day.
They say beauty is only skin deep, but they probably weren't freshmen in high school where every day is like a Pinterest fashion show. Our daughters our growing up in an image-obsessed world.
And it can be tough to feel beautiful in a filtered world.
Later, I kicked off my heels and propped up my tired feet and scrolled through Instagram. I clicked on my daughter's account and scrolled through her images  like I do occasionally and what I saw there took my breath away.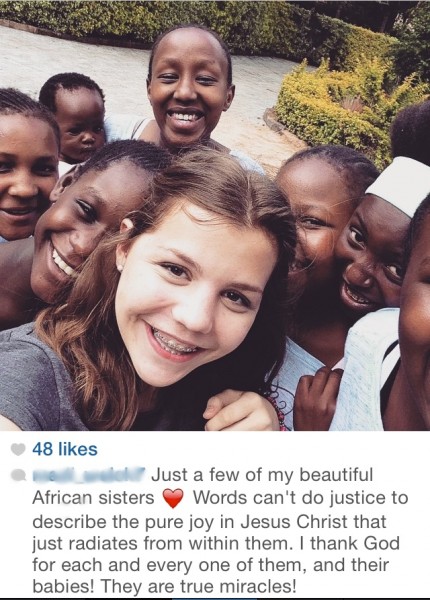 Pure beauty. The kind that has nothing to do with a bad hair day or clothes that don't feel right. The kind of beauty that isn't found in how we feel about ourselves, but instead how we love others-— (which ends up making us feel good about who we are)-that's what I want my daughters to see in the mirror.
That kind of beauty doesn't come with a great outfit, a perfect complexion or shiny hair. It is found deep within.
Pulling her aside I showed my teenager the picture. "Honey–this is the first time I've seen this photo you posted while we were in Africa at Mercy House. Look at it. You don't have makeup on. You're jet lagged and probably need a good shower. But I've never seen you look more radiant."
Bad days are part of life and we don't always feel good about what we see in the mirror. We have to remind our daughters that this has very little to do with true beauty. They need us to emphasize inner beauty as much as the world emphasizes outer.
She looked closely at the picture of her selfie with her African sisters. I saw her remember how loving others feels. She was reminded that these girls who live on the other side of the globe didn't care about her outer appearance. They simply loved her for showing up and being their friend.
"You are beautiful," I said again.
And this time, I think she believed it.