The other day I got an email from a TV producer and they wanted our family to try out for a reality show called "The Kitchen."
Yeah.
It was some sort of cooking show and they wanted "real families" who fight, I mean, cook often together in the kitchen. The email went on to say, "We are specifically seeking out families with an interesting point of view, a unique style of parenting, and a real-life story unfolding in the family."
Were we being punked? I looked for the hidden cameras. It's like They Knew about our unique parenting style called "Stop combing your sister's hair with your spaghetti fork or I'm going to hurt you bad."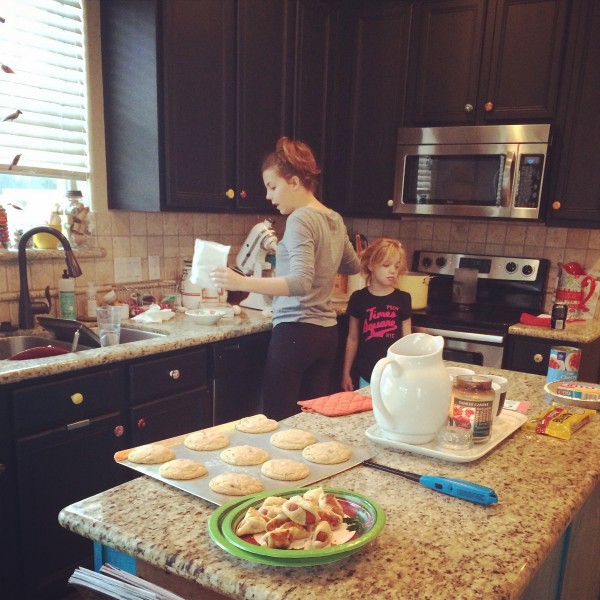 I took this to mean, "We are looking for some of those family moments…you know the ones."
And believe me- we have plenty of them. From the typical eye roll to the "I wish I had a different family," comments that leave you feeling all warm and fuzzy, we just might help a network's ratings.
But we won't. Because, we are in fact, not that family (this time).
My family is probably a lot like yours. Messy. Like sticky apple pie you can't quit.
But even in our worst moments, I want my family to be governed by good habits that make us effective in the world for God. When we wrote out our family mission statement so many years ago, it was more of a craft project than a projection of where we wanted to go. But God has used those words to guide and shape us.
In the ebb and flow of the family dynamic, there are good days and bad ones. And we don't get it right all the time. But at the end of the day, I want to be able to say that we did something good for someone else-that we were effective in some way. We don't always get it right or do it well, but there are 6 habits that we aim for regularly: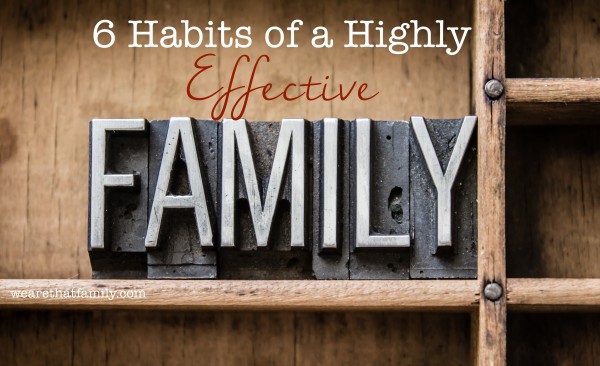 Let go of what others think | Parents seem to master this one before teens do. Just as I've learned not to care, my kids are very aware of what others think. Striking that balance is important. But so is remembering that at the end of the day, if you're following your heart and God's, it's much easier to live without the restrictions of pleasing everyone else.
Listen to each other | I'm still in listening school. As a mom, I think this is one of the greatest gifts I can offer my family: tuning in. I have watched my children come to their own conclusions, work out many of their problems and feel better about situations, by nodding my head and affirming they are simply being heard. And also, if I pause 5 full seconds after my husband asks me a question, he keeps talking.
Lament the losses | I think it's important that we pause to recognize the losses in our family-whether it's a friend or a perfect test score, a pet goldfish or a first boyfriend, our family gets broken. And when we walk thru loss together, it makes us heal stronger.
Love no matter what | Some of my children do not always make choices I want them to make. Shocking, I know. But at the end of one of those hard, tearful days, when consequences land wherever they may, I want my people to know that love wins. No matter what they do, who they become, how far they run, they are deeply loved.
Live brave | I spent most of my life living scared. I was terrified far too long. Fear of failure, fear of missing out and not fitting in captivated me. I want my family to try, to live a little scared because that's when we feel most alive.
Latch onto God | Family life doesn't always look like I thought it would. Neither does following Jesus. I've always thought it was done a certain way-church 3 times a week, Christian radio presets, church camp with the Christian t-shirt to prove it and a little rhinestone Jesus leading the way. My ideal was wrecked and I'm discovering I can't make my kids follow Jesus the way I follow Him. I just want them to find him and hold on.
I'm glad God loves messy families.
Even the ones on TV.