A friend of mine who is about to have her first baby asked me the other day, "So, what do you think I really need as a new parent?"
"Not as much as the baby aisles at Target will tell you," I said as we talked about the overwhelming amount of stuff available for new moms and babies.
I have met moms from all over the world and I started thinking about how simple parenting is in other countries. The babies we help in Kenya don't use pacifiers, swaddle blankets, breast pumps, or baby gear. They have a blanket, some cloth diapers and a few changes of clothes and their moms' biggest worries for the future include having enough food and paying school fees. The refugee mothers I know don't stress about birthday parties or the latest and greatest gadgets, they worry about providing diapers.
It's always good to get a dose of perspective. It's far too easy to compare ourselves to the people around us and think we're the only ones not giving our kids everything. It's good to remember most of the world just wants to give their kids something.
I think we've made parenting more complex for the sake of convenience and comfort. And it's not all bad. Some things do make parenting easier and I'm grateful. But we spend a lot of time and money in the moment on things that don't really matter longterm. I'm as guilty as anyone. I once bought a machine to vibrate my colicky baby's bed and returned it. Total scam.
It's good to step back and evaluate what's sucking a lot of our time and resources. Here are 5 things that don't matter in parenting as much we think they do: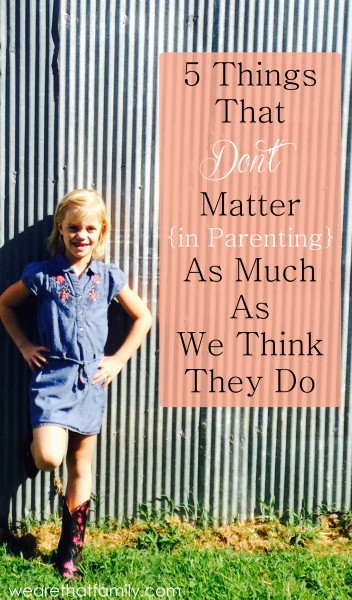 Things that plug in | Oh, we are a technology culture, aren't we? We could spend ourselves into the ground trying to keep up with all the latest technology, hottest gaming systems, apps and electronic must-haves. It scares me to think about how all this screen time will effect the next generation. Technology is a part of our culture and it adds a lot to our lives, but this constant thirst to acquire the latest item will never be quenched.  Because the next big thing is always around the corner. It won't kill our kids (or us) to use what they have until it breaks or just live without. We have a rule in our house that you have to wait until high school for a smart phone. Some days this is challenging for my kids, but it's what we've set as our standard. And when we set guidelines, they are easier to follow. Teaching our kids to be content starts with being grateful for what you have, not waiting and wanting what's around the corner.
Things that are found on Pinterest | There were birthday parties and recipes and toy organization ideas before Pinterest, they just weren't as pretty, and pin-able, right?  I'm all for good ideas (and I've found plenty online), but I think Pinterest can make us want to focus on our parenting imperfections…Recently, I talked to a new mom who was exhausted from spending like 20- something hours planning her first child's first birthday party–which ended up being cancelled due to a nasty case of Roseola. She admitted to succumbing to the online pressure for a photo shoot, a wardrobe monogrammed with "first birthday" and a lavish party. I did some pretty great parties when my kids were little. There's nothing wrong with that, but I've just learned that it's not as big as deal as I once thought, especially to my kids.
Things that other people have | This is a hard one, isn't it? It's difficult enough as adults to see someone showing off the latest and greatest and not feel a pang of the "gotta-have-its." Kids are no different. But if we give them what their peers have –for this reason alone–we are teaching them that stuff matters most. We are affirming that in order to fit in or be liked it requires us to be like everyone else. In the long run, the fads will fade-they always do. My youngest struggles with this right now and we are trying to teach her that we won't buy things to fit in or feel accepted, because in the long run, it will hurt more than help.
Things that make us feel like a better parent | Let's face it, getting our toddler into the "best" preschool or our 8 year old son onto the "right" football team, is more for us than our kids. Children don't really care about prestige or influence. And it can be time-consuming and exhausting for parents living up to the pressure to do everything right all the time. I used think I had to help my kids find their "thing" early on. Life is teaching me that God has a plan for my kids. I can do my part and He will do the rest. Our kids learn through success and failure and they need both to be well-rounded. It's good to slow down and ask ourselves  Am I working on something that will matter in a couple of years?
Things | With Christmas around the corner, kids are already being bombarded with the hottest new toys and gadgets of the season. We just have to visit a Thrift store to see how long some of those trendy items last. Kids probably won't remember their "big" Christmas gift or birthday toys next year. We usually give our kids 3-4 gifts. This year, one or two of them will be an experience and not another "thing."  Because will remember the most important things, which aren't things at all.
As a parent, I am constantly reevaluating what they need and what I should give them and I'm learning in order to really give our kids everything, sometimes it's good to step back and realize giving them less is giving them more.