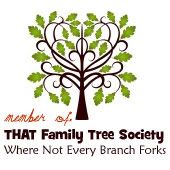 I've had some THAT family moments this week: Let's see, the toddler only took off her diaper in public once (that's major progress); my son is wearing a quarter on a string around his neck, "it's called a necklace, mom!"; and the big water bucket at the community pool that I was standing under, pulled half my bathing suit down when it dumped gallons and gallons of water on me. 
Yep, we're still in the club.
I'd like to introduce you to Suzie who is going Up the Hill Backwards.  I met Suzie in my first months of blogging and knew we were from the same family tree. She submitted this post, "Little Mr. Manners" as proof.
1. Tell us a little about your blog (name/reason why you blog):My name is Suzie Im a blogacholic. My blog Up The Hill Backwards could have been a nice little blog about horses and rainbows but instead I gotta hold of it and made it the little trouble maker its become.  Im so ashamed.
The reason I blog is that Living in 1000 square foot apt with two kids, a hubby, a dog, and two imaginary cats named Fred have robbed me of my sanity. I blog because I am quite insane now and need an outlet for my crazies.
2. How long have you blogging? IN 2012 it will be 5 years.
3. How would you define THAT family? You now it when you see it. 
4. When did you discover you were a part of THAT family? When my son stripped naked at my work and ran around with his arms outstretched singing Im a Little Tea pot (at least it was him and not me though).
5. Where can we find your blog?
http://upthehillbackwards2.blogspot.com/
If you'd like to join the THAT Family Tree Society, grab the button on the sidebar. If you'd like to have your blog featured, you can read all about it here.