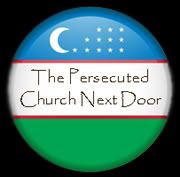 More than $400 in donations has come in for The Persecuted Church from this blog, plus several items that have been shipped to this family (toys, rugs, clothes). My friends would like to say thank you:
Dear friends, 
We are so thankful for your generous hearts. We are so glad that after we lost so many things in our life, we have found new friends, family and home. Thank you for being friends for us even we haven't met each other face to face. Thank you for your gifts of love which we received from our friends. Thank you that you are open for needs of others and willing to help them. Through your donation we can see the love of Jesus in our life. We pray that our Almighty God will meet your needs for His Glory. We pray that each of you will have many blessings in your life, family and business. We pray that one day we will meet each other before feet of our Lord and celebrate victory together. Please, keep us in your daily prayers and stay in touch. 
I helped my sweet friend register for some things at Target in the next town over since ours is getting a new roof (thanks to Hurricane Ike). 
You can still donate to the Paypal account. I will leave it open indefinitely.  
If you would like to view the Target registry and actually send them a gift, please email me and I will send you the link. It gives some personal information, so I decided to monitor it more closely.  
(I'm planning a small home shower with a few friends, but you are more than welcome to participate!)
My hubby is meeting with Igor weekly for prayer and discovering ways we can get involved in this great ministry.  And I've been helping edit his English for the materials he sends out.
I left the letter above just the way he gave it to me.  Not too shabby, huh?
In the next couple of weeks, I will be sharing more about their current ministry to Russian countries.  It is exciting. It is unbelievable. It is very dangerous.  And we are convinced that God wants us to be a part of it.