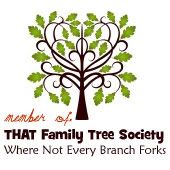 Grab the button, email me the answers, join the club!
Now, y'all know
I'm an introvert
. I don't like seeing myself on my own computer screen. But I felt bad about ignoring your requests to see
my new 'do
, so here's a couple of hair pictures. I won't even tell you how many photos I took to get these. Photography? Not my gift.
Introduction into The Society:
I'm happy to introduce you to
When Does Daddy Come Home
. I love the name of this blog. For obvious reasons! Visit her today and she'll tell you more about how

lucky

she is to be a part of this tree!
1. Tell us a little about your blog (name/reason why you blog):
I actually did not think up my blog name. I had to bribe someone, with a prize, to think one up for me! This was my favorite from the many ideas I was given because it fit our lives perfectly. I'm constantly calling DH at work… "When are you coming home? I'm going crazy over here… get home NOW!"
2. How long have you blogging?
January 2008— I'm a newborn blogger
3. How would you define THAT family?
THAT Family is comprised of NORMAL people who are just trying their hardest at this thing called parenting. Parenting is a learning process and we all need to band together in support, not in judgement. We slip up, we mess up, but most of the time it happens with an audience…
4. When did you discover you were a part of THAT family?
Probably the day my 5 month old daughter crawled (yes, she crawled VERY early) off my bed onto hardwood floor while I was in another room (I think I was actually on the toilet). The pediatrician on the other end of the phone had a tone that made me feel like THAT Family! Oh, and we're always getting stares in stores. Not that we're stupid or redneck— I'm one of those "ignore the tantrum throwing toddler" parents so it drives everyone around us nuts.
5. Where can we find your blog?
http://whendoesdaddycomehome.blogspot.com