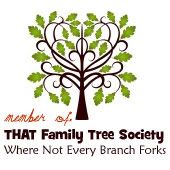 Grab the button, email me the answers, join the club!
Week in Review:
Because sometimes a herd (school, posse)? of ducks show up at your front door and you just need to feed them.
1.  Tell us a little about your blog (name/reason why you blog):
My blog is called No Small Thing.  I started it as a journal so that I could remember funny/sentimental things, even every day things that have happened in my life as a mother.  
2.  How long have you been blogging?
I started this blog in 
January 2008
, so it has been about 7 months. 
3.  How would you define THAT family?  
THAT family in one word?  Us.  THAT family is always noticeable for one reason or another…the dirty fingernails, the koolaid smiles, the bumps and bruises and scrapes.  They are loud, and chaotic, and fun to be around!  They seem unlucky, as though a little black cloud follows them around, but they also don't seem to notice that cloud.  THAT family may seem a mess, but they have a love for one another that is deep and it will weather any storm.
4.  When did you discover you were a part of THAT family?  
Well, I grew up in THAT family, and I was going to turn in my membership card when I got married.  I think I figured out that I was still a member when my third child followed me around Target asking rather loudly if he could "eat this booger?"  I was gettin' the stares, I'm tellin' you.  Or maybe it was the time I had to take all four of the children to the doctor (they were all sick) and the doctor asked for a urine sample from one of them, so we all piled in the bathroom together, me, three kids and a baby in the stroller, and they began fighting over who got to pee in the cup while the baby was screaming.  And I tried to shush them, I did, and I know everyone heard us.
5.  Where can we find your blog?