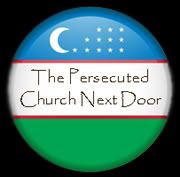 Persecuted Church:
Can I just say I am honored to be a part of these people's lives?
I mean out of all the people in the world, why us?
I'm amazed God allowed
our
paths to cross.
And
our
lives to intertwine.
I am awestruck.
Last night, two dozen people I love, joined with me in blessing this family. We ate and laughed and offered gifts of love (bed sheets, a trash can, stockings for their mantle…just to name a few) to these refugees from The Persecuted Church. 
Igor shared about his recent trip to the Russian block of countries. The Sport's Conferences he held were very successful. He traveled to Khazakstan which borders his home country and he met with people from the Underground Church. They were so thankful to receive
the duffle bags we sent
.
I wanted to weep when he told about their two brief days together. They all had to sneak across dangerous borders to meet him. He saw his parents for the first time in two years! He said they were all so eager to fellowship together and pray for one another, they didn't  even take the time to sleep during the 48 hours.
Amazing, huh?
I thought my heart would explode when he told of the 100,000 orphans in The Ukraine alone that they held outreaches for and then introduced us to a Ukraine Pastor who traveled back with him. This Pastor has seven children, three who were orphans. 
His name is Serge and he handed me a picture of his beautiful family. He asked us to put the picture on our fridge and pray for them.
The holidays are coming and our economy is unstable.  These are difficult times for so many. And yet, I was reminded again today how much I have and how much I can still give.  
If you would like to help, please click below. (So, many have you already donated and sent gift cards and gifts.
Thank you
).
Please keep us in your thoughts on December 1st.  Our local Chick Fil A is hosting a Benefit Day and 20% of their proceeds will go towards this family and their ministry.  
I'm praying a lot of people will get The Chicken Craving that day.
I plan to consume a lot of sweet tea.
It's the least I can d
o.