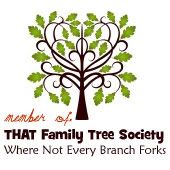 The Week in Review: We actually broke out the long sleeves in Texas this week. Of course, now we're back in

tank tops

. Oh wait, it's cool again. And now it's hot. See? how we suffer??
Introduction into The Society: 
1.    Tell us a little about your blog (name/reason why you blog):   
 I started our blog to keep a record of our growing children and it truley is an adveture everyday. I also blog to share photos that I have taken.   
2.    How long have you blogging?
3.    How would you define THAT family?
THAT family is the one that is always hearing things like "it could only happen to you" or the family who is always having to duck out of Sunday Morning Service at church because their children are throwing tantrums. 
4.    When did you discover you were a part of THAT family?  
I discovered we were part of THAT family when my almost five year old threw a temper tanrturm for almost three hours straight. I also knew we were part of THAT family when my one year old started dancing and swinging to the music just like 
Elvis
.
5.    Where can we find your blog?