We are at the half way point in collecting supplies for this wonderful project for little African girls.
I am simply overwhelmed at your generosity! Please continue to send in pillow cases and supplies until the end of June. I don't think we can make too many! New goal: 200 dresses
Received so far: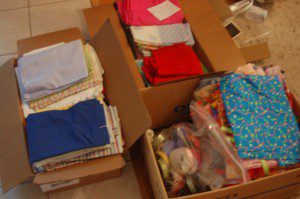 95 pillowcases (+plus a lot of flat sheets/fabric)
11 completed dresses
$225 for shipping to 15+ seamstresses both ways
14 spools of ribbon, 15 packs of bias tape, 7 packages of elastic, 20 spools of thread.
PLEASE make sure I receive your donations before July 1st. I will be undertaking the huge job of dividing out supplies/mailing the first week of July to give our seamstresses time to make the dresses.
I've heard from several that you are making groups with your homeschool kids and churches!! Please make sure the dresses are completed by mid-July, so they can be counted in the total.
(If you are a seamstress, I will be contacting you soon. Please feel free to let me know if you can make these dresses w/ribbon only, bias tape, only or elastic only or ALL THE ABOVE, so I can send you the right supplies in July).
xoxo to all of you!