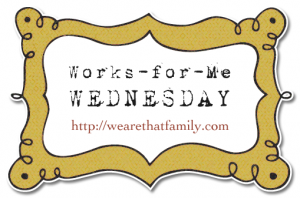 By this time in the year, I usually have our summer pretty well planned. But this year, I'm going with a theme. So, it seemed sort of silly to write LAZY DAY on every day of the calendar!
I'm sure after 19 straight days of staying in our pajamas, I'll be digging up this post! We will probably do a summer book club, swim a lot, church camp and VBS. But that's why this is one of my all time favorite WFMW for all those in between days of "Mom, I'm Bored!"
My tip:  Create a HUGE fort out of sheets, blankets, even bungee cords and leave it up for a week. Encourage reading in the tent, writing letters, snacks optional. Stick a movie in the laptop under the fabric house, tell secrets, let the kids sleep in it over night!
I also thought I'd share the last TWO YEARS of "Mom, I'm Bored" links!!
So, with this linky today and the links for the past two years, clearly boredom is a thing of the past.
You can read the WFMW guidelines here and grab your own button!
---
| | |
| --- | --- |
| | This linky list is now closed. |