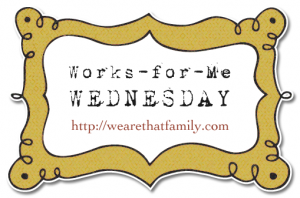 This tip is brought to you by my smart 10 year old daughter:
When you are getting out of the pool and your swimsuit is really wet and your cold or you need to dry off to go home, wrap your towel tightly around your body-as tight as you can. Hold it closed with your arms and scrunch down all the way to the ground, keeping your arms pressed against your body, while kneeling.
It really does wring out your suit quickly!
I wouldn't know. I tried it, but fell and couldn't get up.
But it works for her!
What works for you? View WFMW guidelines here. Don't forget next week's (suggested) theme is: "Share your favorite summer recipe(s)!"
---
| | |
| --- | --- |
| | This linky list is now closed. |