Over dinner, when we pray for a different country from the book, Window On The World
, my kids ask the same question, "Is the country we're praying for free?"
They may not understand politics or the reason we have troops stationed all over the world, but they know freedom.
My kids understand that we have freedom to speak and worship as we please because we are Americans.
And while I might not agree with our current government, I'm proud to be an American and I thank God for our service men and women.
Can I encourage you to remember them this weekend?
Buy a special edition military Bible for $4.99, write a personal note of thanks and Lifeway Bible bookstore will get it into the hands of a US soldier. Don't have a Lifeway near you? Order a military Bible online.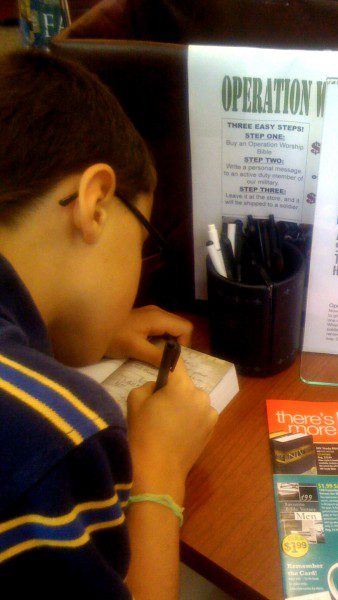 Red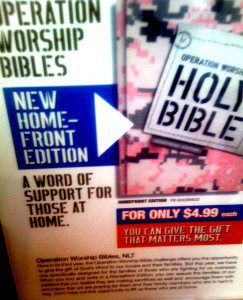 White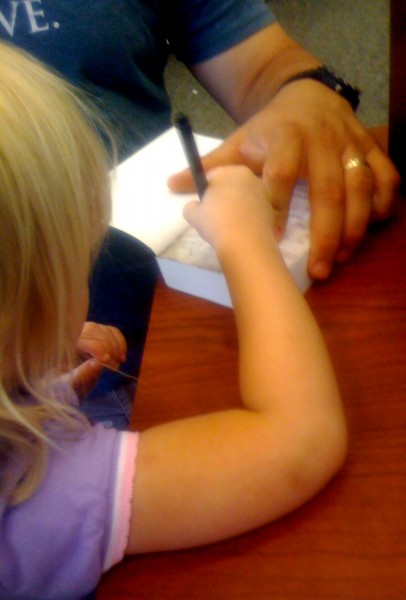 And Do.
July Do-It-For-Other Project: Help Wounded American Soldiers
This is from the wife of a wounded soldier:
"My husband was wounded in Iraq on January 26, 2005.  He sustained permanent shrapnel injuries to his face, right leg and knee, leftshoulder and arm, and right hand.  He also has a traumatic brain injury from the blast and post-traumatic stress disorder from the ordeal.
Wounded veterans leaving the current theaters of operation in Iraq and Afghanistan are evacuated to Landstuhl Regional Medical Center in Germany. This hospital is the first landing place where they are operated on and begin their treatment and rehabilitation. Many are brought there with literally nothing.  The clothes that were on their backs were cut off in the theater to check for wounds before they were evacuated first by helicopter and then by plane.  Their gear often fails to make the trip with them or was so badly damaged it is no longer able to be used.
Imagine that is your husband, your brother, your son.  Imagine that's someone YOU loved sitting in that hospital room alone.  If he has a buddy there, he wishes he didn't, because they're both there for the same reason.  For his family to arrive, it's an 8+ hour flight from America and many can't afford to make the trip or aren't prepared for it.  He's as alone as he'll ever be in his life at a time when he should never have to feel alone.
Granted, we can't just reach out and give him a hug but we CAN make a difference.  When my husband arrived at Landstuhl the generosity of strangers made that wait until I could get there so much easier.  He was given clothes that had been donated, model cars to put together and paint, and cards from across the country of people showing their support and telling him that his sacrifice was appreciated."
Here's what WE can DO (send the following items):
Burger King Gift Certificates
International Calling Cards
Sweatsuits (small to x-large)
Athletic Shoes (men's 9-12, women's 6-9)
Men's and Women's fall and winter jackets (med to x-large)
Backpacks, Gym Bags, and Small Suitcases (something to store their
clothes in)
DVDs to put in the hospital wards for them to watch
If you don't know what to send but want to do more, checks are also accepted made out to: IMA-E CTOF-WW
Mail ANY of this to:
Landstuhl Regional Medical center
Wounded Warrior Ministry Center
CMR 402
APO AE  09180
Please note that shipping to an APO AE address is IDENTICAL to shipping rates for New York.  You can use flat rate packages to ship large amounts of cards.
Leave a comment ONLY if you are able to send something during the month of July to support our American soldiers, wounded in battle, keeping us FREE.
P.S. I'm sending out hundreds of pillowcases to seamstresses early next week! I will update y'all with the totals on dresses in early August-I think we might be close to 300!! We aren't collecting supplies anymore, but we are accepting completed dresses until the end of July. You can get more details about that project here.
(Have a safe and happy 4th of July…I'll see y'all on Monday!)