[Warning: There is a faith-put-into-action opportunity at the end of this post. PLEASE do not miss it!]
I believe in a Divine God that connects dots.
I'm a dot.
You're a dot.
He draws a line between you and me and we are connected.
I can't explain it, but I know in my heart that God wants to use my blog to mobilize mothers to do good things for Him. I don't have time for a catchy logo or cute graphic-there are hungry babies in Ethiopia right now and there is a baby formula shortage.
My dot was connected with Dinah, one of America's greatest pro-life leaders. Besides setting up more than 30 maternity homes in America and her first in Africa, she is using her pro-life warehouse to ship formula into the suitcases of people traveling into Africa. It is saving the lives of precious starving babies in four of Ethiopia's orphanages, some in remote areas.
Dinah is running low on formula and that's where your dot comes in: There are hungry babies in Africa and we can help them.
It is a fact that 30,000 (yes, you read that right: thirty-thousand) children die every day from hunger and preventable disease. That number is so large it's hard to comprehend. But your donation will make a difference to one. Your gift of formula will save a life.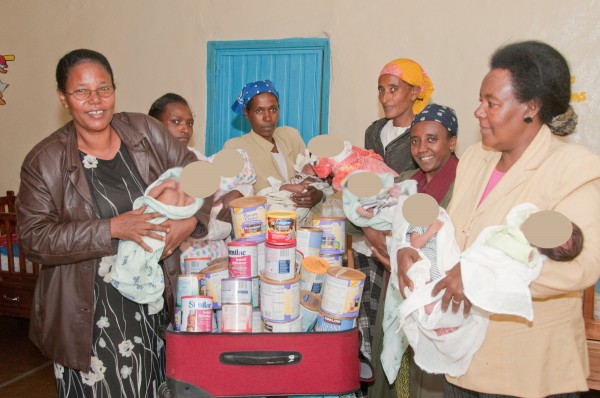 (the tiny faces of these babes have been covered to protect their future adoptions.)
Can you send formula? Will you connect your dot with ours?
For the next 30 hours, I will be pushing hard, updating, mobilizing and partnering with Into the Streets of Ethiopia to get cans of formula committed to send to Arizona (and then on to Ethiopia)!
TWO generous donors have offered to MATCH the first 100 200 cans that are donated (that's $2000 in formula!) from my blog.
Please leave a comment with how many of the large cans of WalMart (milk based only, no soy), you can send to this address:
Heritage House '76, Inc.
919 So. Main St.,
Snowflake, AZ  85937
If you do not have a WalMart near you, you can purchase a WalMart gift card online and have it sent directly to the address above. Please make sure you make a notation that it is for formula if you can. But they have been notified that all WalMart gift cards are designated for formula. You can also send a check for formula (for a tax deductible donation) to Living Hope Women's Centers. Formula will be bought and sent.
[from Dinah: "We will send the formula with work crews and adoptive parents as they go over.  We have shipped close to 400lbs since April but are running out.  Check out the Post Office one price if it fits and see how many cans can fit in a box]
God connects dots.
Please leave a comment if you can send a can of formula.
*Update* As of 9 am CST on Monday morning, there have been 115 cans of formula donated!!! Let's keep going!
*Updated Again* As of 2pm CST, there have been 156 cans of formula donated!!!