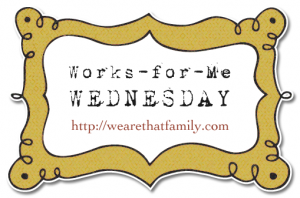 Have y'all heard of Groupon?
It's pretty new to me, but I love the idea of getting a great deal on things!
How It Works:
Each day Groupon features something cool to do/buy at an unbeatable price.
You only get the deal if enough people join that day… so invite your friends!
Check back the next day for another awesome Groupon!
You can sign up to get emails for deals in your local big city. I've been pretty impressed with what they've offered so far at deeply discounted rates for restaurants, services, stores, etc.
Occasionally there are online deals. I've only bought one thing and it was from the cute dress shop Shabby Apple. The deal: $100 gift certificate for $40! That's a 60% savings!
*UPDATED TO ADD* Just learned that you can shop different cities and occasionally there are online deals! I actually found the Shabby Apple deal under the Baltimore if your interested, but hurry!
Have y'all tried it yet?
Groupon works for me!
Next week, there's a themed edition of WFMW: Your best bathroom or kitchen tip (organizing, cleaning, etc.) Please remember that themes are just suggested and you're always welcome to link up a helpful tip.