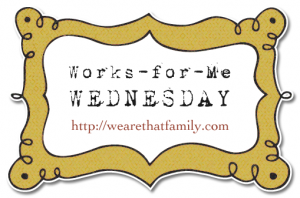 Last week, my ghetto mom van was in the shop for over a week. We had a few issues the dealership agreed to fix on our paid-for 2006 van and we weren't about to turn them down. Because we like free. A lot. In exchange for my minivan, they gave us the tiniest car that seats 5 people.
I never thought I'd say this: but I missed my big white stinky, crumb-filled automobile something fierce.
Because noise and smells are magnified in a small car and the little people are VERY close to you.
For a split second, I rethought the whole driving for days and miles in a recreational vehicle.
The tight space reminded me that I really needed to have some activities ready for the long drive (it also reminded me to wash my son's shoes).
Moving on.
A couple of years ago, I wrote this mega post of travel tips while on-the-road with kids. I thought I'd share it again with y'all:
Audio books (my library checks them out) or you can download them here
Ice chest w/drinks
DVD player, preferably with movies that haven't been seen
We've been driving our smaller less gas-consuming car that doesn't have a built-in TV.  So, we strap our laptop on an ice chest with a bungee, so the kids can watch a movie. (Yeah, we are THAT family).
This site says pack a plastic box for kids personal things and then use the lid as a tray to eat on.
Lap Desk for writing and drawing
Headphones for MP3 players and/or DVD player
Kid's camera
Sketch pad/pencil
Extra change of clothes, separate from luggage.  Because if it can happen, it probably will.
If you're traveling with a toddler, leave when they are tired.  If you leave first thing in the morning, this is their active time and they don't make the best travelers
A package of pipe cleaners (to bend, twist and create)
Pack paper towels, wipes, and a couple of blankets.  Remember, we're talking kids.
Put a trash box in the back seat
Travel games from the store  (Target has some great ones in the stationary section that are cheap and magnetic!)
Travel freebies-links to free stuff for traveling
Play the I spy game with license plates
Wipe-off white board/marker
Magnetic sets (paper dolls, fire trucks, found in book sections)
Snack bag filled with pre-portioned zip-lock bags of non-messy foods
Kid's music
Tin foil for creations
Play Go Fish
Make string figures
Check out these awesome games (like Noah's Ark, Build a Story and Fooler, Fooler) to play in the car!
Kids pillow and blanket
Rest Stop Box-stock with jump rope, frisbee, inflatable beach ball and Nerf ball, according to July's issue of Parents Magazine.
They also encourage travelers to 'crank up the radio, open the doors and have an outdoor dance-a-thon).
Printable Car Trip Check List
Child-safety scissors and paper (it worked on a long flight w/my preschooler)
Invisible markers/Magic paper
Moon sand on a tray
Post It Notes-draw on them, then decorate the car (Women's Day, July Issue)
Spill-proof Bubbles (yes, in the car.  My toddler loves this).
Printable Car Bingo
Stickers
Band-aids (again a toddler-pleaser)
Leapster, DS Lite or hand-held game
Magna Doodle
Cookie sheet with magnetic alphabet letters
The following incredible ideas came from MomsMinivan:  travel tickets, surprise packages, and more (Actually EVERY idea on this site is amazing!)
Printable Boredom Busters
I spy bags/jars
Ear plugs for when the "how much longer questions begin"
What works for you on road trips?
Thanks for joining in, you can read the WFMW guidelines here