School starts in our part of Texas two weeks from tomorrow!
We have ONE thing left on our back-to-school shopping list: new shoes.
We're using last year's backpacks and we brushed up wardrobes at our local kid's resale shop.
But shoes? I like my kids to each have a new pair. But it isn't their only pair: They have church shoes, Crocs, flip flops and play tennis shoes.
Recently, I read in a magazine that the average woman has 19 (nineteen!) pairs of shoes.
I can't help but think of the estimated 300 million people around the world who will wake up tomorrow without a pair of shoes to protect their feet from injury and disease.
Several months ago, I learned that one of my readers from the United States moved to South Africa with her husband with one goal: to provides shoes for people who didn't have any by starting Samaritan's Feet South Africa. I was so impressed by their simple goal and profound leap of faith that I decided WE MUST HELP THEM.
Guilt aside, is it really right that I have racks of shoes in my closet while so many people have none?
I'm happy to announce that our newest DIFO project is collecting new shoes for the people of South Africa! The shoe drive starts today and runs thru the end of September.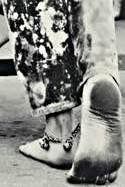 There are several ways for you to be a part of this shoe drive:
Shop for and mail a new pair of shoes to the address below
Order a pair of shoes from an online store and have it shipped to the address below (see online deals below)
Donate (tax deductible) a financial gift for a pair of shoes here
What will your donation do?
Samaritan's Feet South Africa is working to make a difference in the lives of kids and adults in need of shoes throughout sub-Saharan Africa. At our Shoes of Hope Distributions, we partner with local organizations, churches and schools to achieve three specific goals:
We TOUCH each person, by washing their feet.
We TEACH each person a message of hope.
We TREAT each person to a new pair of shoes.
Address to ship shoes to:
We are THAT family
8000 Research Forest Dr
Ste 115-110
Spring, TX 77382
**Online stores like JCPenney have great sales on shoes right now! As a matter of fact, you can shop here at the kid's clearance shoe section, enter this code TEN2YOU which will get you $10 off your $10+ purchase for a sweet deal! Plus, right now, there's FREE SHIPPING!  You can purchase a pair of shoes for less than $5!! PLEASE NOTE: ONLY ONE COUPON PER PERSON CAN BE USED.
**So many deals to combine at Famous Footwear!!! First off, all shoes are B1G1 50% off!  You can shop from the sale section where shoes are already marked down up to half price.
-Use code: SCHOOL3 and get 20% off your entire purchase!
-Free shipping applies when you buy 3 or more pair.  Two pair is $4.50 shipping
(thanks to Moms by Heart for sharing the shoe deals!)
*updated* Walmart has .97 cent shipping and Old Navy has some good shoe deals. Let me know if y'all find other online deals and remember you can make a secure monetary donation here.
Mostly kids shoes are needed right now, boy or girl (especially kids size 3 or 4 up to women's 6) and Samaritan's Feet only accepts NEW shoes. Thank, y'all!
Please leave a comment if you'll pick up/send a pair of shoes!