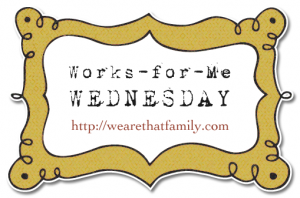 I love brown sugar. I eat it for fun. Just kidding. ahem.
I hate when my brown sugar gets lumpy and turns as hard as a rock.
My mother-in-law gave me a terra cotta Brown Sugar Bear
to put into my bag of brown sugar. She said it would keep it soft. I had my doubts, but it really works.
I love this little $3  bear. It really keeps brown sugar from turning hard and I just transfer it to a new bag after it's opened.
It works for me!
Don't forget NEXT WEEK is a themed edition of WFMW: Share a back-to-school tip! AND, three WFMW participants will win some cool back-to-school goodies!!