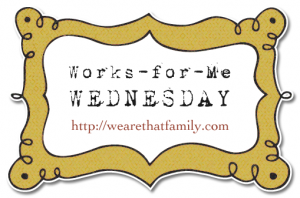 When we moved into our house almost seven years ago, the shower door in the master bath was disgusting. No, really, it was just plain gross. It had a dozen years of hard water build up and you could hardly see thru it. It took awhile, but we scrubbed and scraped that puppy clean with some high-powered chemicals.
In order to keep it from happening again, I hung a squeegee on a suction cup and threatened my family: if you shower, you squeegee. With a quick swipe, the water is removed and Momma is happy. Seven years later, the door is in perfect condition (for a door that's more than a dozen years old!), but don't ask about the rest of my house, k?
What works for you?
You can view the WFMW guidelines here.