I know I ask a lot of y'all. I never thought my blog would turn into a place where I ask for things (Hospice blankets, preemie clothes, baby formula, pillow cases, shoes, etc), but it has.
I'm not sorry.
It is what it is.
I'm going to keep putting opportunities before you and asking you to put yourself in other people's shoes (or lack thereof). Speaking of, we are still collecting shoes until the end of September. Please consider sending a pair or two. So far, we have 144 150 pairs in my garage! You can read more about the project here.
In the last few months, it's become very clear to me that my blog has grown and gathered influence for a specific purpose. I will be sharing more about it in detail,but I know this for sure: God has a plan.
God is using  you to change the world, one project at a time.
I'm just a regular mom and I don't want you to think for ONE minute I'm something special or better in anyway. I yell at my kids, nag my hubby, worry about money, my kids, decisions I make, I even sweep dirt under my rug and restart the dishwasher because I don't want to empty it.
But it feels like the last year has been leading up to THIS moment and I can't wait to unveil it.
My 3 year blogging anniversary is coming up, but in lieu of  a party or a ton of giveaways to celebrate, I'm going to share with you what God has been leading our family to over the summer. We've been working furiously the last few months and during the week of September 13, I will be revealing the next chapter of this blog and our lives.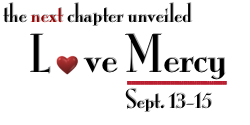 I'm going to ask you for one more thing: will you pray? I know you don't know the details yet, but will you ask God to continue to lead us and for your own heart to be open to what He might ask of you the week of September 13 and the months to come?
I'm so glad y'all are on this journey with me!
I will tell you: It's BIG. Because that's how God likes to do things. And I'm going to need your help!
(Please note: WFMW will continue and I will put up a linky on Wed. Sept. 15)