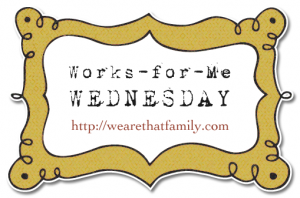 My kids love snacks. They get it from my hips me.
I keep fun snacks and healthy snacks in the pantry. I make them alternate. Something healthy, something not-as-healthy.
Something that has really helped me to do this: snack baskets.
I keep three baskets on the bottom shelf of the pantry at kid-level. I always open up the packages of peanut butter crackers or honey buns (which would fall under not-as-healthy) and dump them in the baskets. They can have their pick of what's in the basket.
It really cuts down on the "Moommm, there's nothing to eat!"
I keep a fruit snack basket out on the counter all the time, too, for healthy choices.
Snack baskets work for my hips me!