Um.
Yeah.
I'm going down that aisle. I've talked about all sorts of things on this blog o mine and when Quilted Northern contacted me about being their spokesperson, I couldn't flush the idea away. (I also can't resist bad jokes, apparently).
This is the first of 3 posts in which I go there. And since the majority of us are moms or wives and we buy toilet paper and the only ones GIFTED enough to actually replace it when the paper tubes are empty, I thought you might like to participate (and WIN a year's supply of The Good Stuff next week-stay tuned).
So, I'm starting off this party in the bathroom (on a stool by my sink, don't panic), confessing an embarrassing moment:
o   Friend on Facebook: http://www.facebook.com/QuiltedNorthern and get valuable coupons
o   Follow @QuiltedNorthern on Twitter and take the Clean Quiz –  By using a fill-in-the-blank format, and by using humorous hypothetical situations to discuss the taboo, Twitter followers can respond using the #cleanquiz hashtag for a chance to win a year's supply of toilet paper each week! And y'all, we need toilet paper.
But not so we can do this: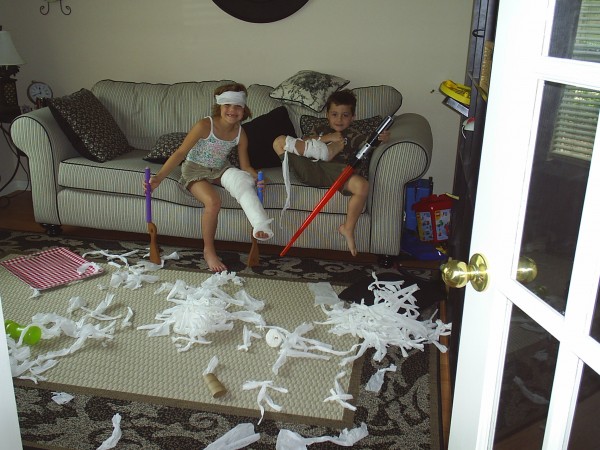 This is what we do with cheap toilet paper that doesn't make the bathroom cut.
Start thinking about your bathroom confessional (keep it clean, literally) and share it next Monday in the comments as your entry to win a year's supply of toilet paper (The Good Stuff) and more!
Do you have creative uses for toilet paper besides entertaining your children? Do tell.
Disclaimer: This post is brought to you by Quilted Northern Soft and Strong®. Please join the conversation at www.facebook.com/QuiltedNorthern or on Twitter each week @QuiltedNorthern for opportunities to win free Quilted Northern Soft and Strong® and help make the taboo talkable. Proceeds generated from these sponsored posts are going to benefit The Mercy House. See? I'll do anything for Jesus.