I was late.
So, I slipped into the back of the crowded room and crouched on the floor.
I couldn't see the face of speaker, Tom Davis, CEO of Children's Hope Chest at the Together for Adoption Breakout Q&A Session. But it didn't matter, his words still pierced.
He is a modern-day abolishionist, rescuing young girls from the terrifying grips of sex slavery. Every minute a child in our world is trafficked. Every minute.
I listened as he answered questions about the unbelievable life these girls lead, most servicing a dozen or more men every day and the dangerous covert rescue operations that his organization orchestrates with the local police.
It was terrible and beautiful to hear.
One of the questions: "How many girls do you know about that need to be rescued right now?"
Tom Davis: "Three. It costs about $2000.00 per rescue."
He went on to describe the safe house the girls are taken to and the elaborate process of rehabilitation.
It was time for the session to end. As Tom shared his final thoughts, a man from the crowd pressed towards the front. He was nervous as he spoke, but their was authority and anointing behind his words, "I don't know Tom Davis and his associate. I don't know any of you. But I know there are about 80 people in this room. And there are 3 girls who are in slavery, being forced into the unthinkable, waiting to be rescued. If we all gave $30 each, we would have enough money to rescue one of them right now. My company will match whatever is given today," he urged in the hushed room.
Tom Davis concluded the session with prayer.
My own tears splashed onto my $30 check as I ripped it from the checkbook. The room was noisy with silent tears and generosity.
Within minutes the table at the front of the room looked like this: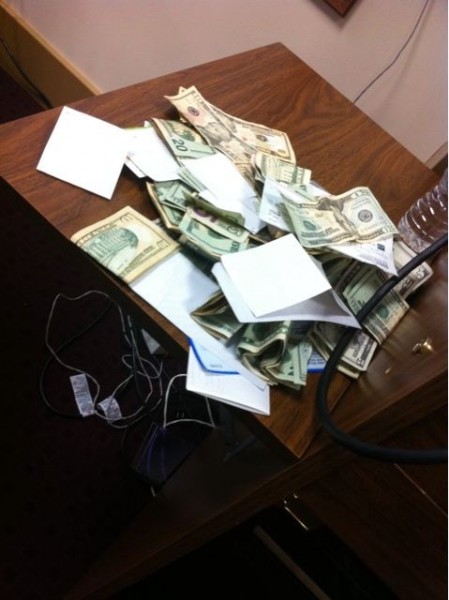 On my own, I couldn't rescue a girl being sex trafficked. But my small check added to 79 others, makes a powerful impact.
It's the power of working together for the cause of Christ. It's ordinary mixed with God's extra.
It's taking 3 minutes to pray for the 3 girls raped every 45 minutes in Kenya. It's giving $3 a month.
That off-the-cuff gesture by one man listening to the urging in his inner man didn't raise enough money to rescue one girl or three.
That pile of money will rescue six girls being sex trafficked. Six!
Don't underestimate the power of doing something, even when it seems insignificant. Don't think that your small gesture doesn't matter. Don't let the opportunity pass to make a difference in the life of someone today.
*photo from the conference Twitter stream