[God spoke these words to my heart while I was at the Relevant Conference. Perhaps they are for you? I wrote them down for me.]
We could have said no. We could have pushed away the beckoning to respond in such a manner. The months of churning and wrestling, seeking and struggling, the labor pain that gave birth to Mercy.
Would you have thought less of us? Sponsoring more kids, changing our priorities, losing the American Dream….they were enough. Maureen would have understood if we'd answered, "No, we can't help right now." Right?
It would have been okay for our response to be okay.
I know this.
And the truth? Standing at cliff's edge, we wanted to say no. We asked if there was another way. We researched and begged. We cried it is too big, we can't, we are afraid, we don't know how.  We don't want to love mercy.
We didn't throw caution to the wind. We didn't just jump into the chasm of the unknown.
We jumped into the very hands of God.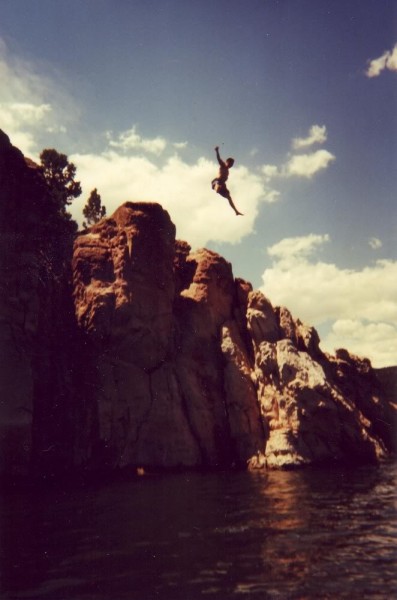 (photo source)
Why? Why do the uncomfortable? Why go beyond the comfort zone and risk so much? Every one of us has a unique purpose for our lives and our blogs. It's a risk finding that purpose. It leaves you exposed and open to criticism and fear and failure.
It leaves you open for the supernatural, the extraordinary.
Stepping into the unknown re-destines your life.
When we jumped, it was as if He had poised people all over the world, who were waiting. Waiting for someone to say yes. We said yes, so they could say yes. Jumping, unleashed a force we didn't know existed. Hundreds and hundreds of people who were waiting, praying, wanting the opportunity help us without even knowing us.
We are on the adventure of our lives. Yes, it's scary. It's uncertain. Control is gone, we are asking, believing for each new step, every day.  This journey isn't a sprint, it's a marathon of hills and valleys.
This is my command—be strong and courageous! Do not be afraid or discouraged. For the Lord your God is with you wherever you go. Joshua 1:9
I believe everyone who believes will stand at the edge.. You can say no. You can push away the beckoning to jump. Everyone would understand if you walked away. It would be okay to be okay. Right?
You won't know what you're missing, your path will continue and life will go on.
But.
What if life is better, God is nearer, peace is more certain, faith is found in the jumping?
"This is how God works: he puts his people in positions where they are desperate for his power, and then he shows his provision in ways that display his greatness." -David Platt
What if someone is waiting on you to jump?
So they can say yes.
What are you contemplating today? What are you waiting on?
I'm linking this post up to Muthering Heights series "How big is your But?"….