The odds aren't in her favor. She lives in a country where rape happens every day, all day long. By neighbors, fathers, brothers, even policeman…The majority of these crimes aren't reported. But she bares the scars, inside and out, and the stigma for the rest of her life.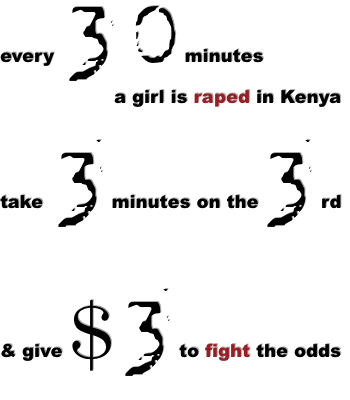 Three dollars.
It isn't much in today's world. You can buy a couple of candy bars or a large drink. Three dollars just doesn't go very far.
Unless you add your $3 to my $3 and I add mine to her $3 and she adds hers to theirs…before you know it, $3 becomes a lot.
There are so many who have wanted to contribute to The Mercy House (maternity home) we are opening in Kenya, but can't commit to $25 a month. And you know what? We need your help. Because every dollar counts.
I started thinking about how I can't do this on my own. Even with my immediate and extended family pitching in and about 1% of my readers giving $25 monthly, it's still too big. But if we all do a little, it becomes a lot.
Even when we were dirt poor (by America's standards), I think we could have scrounged up $3 a month in the cushions of our couch and in the bottom of my purse.
Three dollars.
On the Third of each month.
To remember the Three girls raped every 45 minutes.
My stat counter tells me that I have thousands of regular readers a month. If just a half or a Third of you have gave three dollars, it would be monumental.
Are you in? Click below to make a Paypal donation:
This money will go to the huge financial undertaking of launching The Mercy House, which will counsel and minister to pregnant girls and rape victims for the glory of Jesus Christ.


——————-
Repost from October 2010
Updated: Hundreds of people are monthly Power of 3 donors. It makes a huge difference!