This summer on a visit to the farm, we went to my in-laws small-town church. And I mean small.
In celebration of Father's Day, they passed out pocket knives to the father and the kids, and basically every boy over the age of 0.
I gave my hubby a knowing look that meant OUR SON IS TOO  YOUNG FOR A POCKET KNIFE. He and his dad laughed and told me that the dull little knife couldn't harm a fly.
[insert foreshadowing]
Once we got home, we (and I mean that loosely) let our son keep the little knife in his treasure box in his room. He occasionally asked permission to whittle soap and chunks of wood with his Dad.
Fast forward to two weeks ago: my son rediscovered his knife and woke with a healthy dose of testosterone and asked me if he could use his knife outside to carve on a bar of soap. I told him no, but to ask his dad when he got home from work. Now, my son is not a defiant kid, but he's persistent and human (a lot like his mom). He waited awhile and caught me when I was busy and said, "I'm going to go poke at the tree" or something like that.
He and his little sister played while I was inside. I'll never forget the ear-piercing scream from the backyard.
I ran to the door and threw it open to find my son, with sister following, holding out his hands, covered in blood.
Pocket knife long forgotten, I had no idea why he was bleeding and normally queasy at the site of blood, adrenaline kicked in. I grabbed the hand towel on the counter and applied pressure, barking out orders to my girls. All the while, my son is HYSTERICAL, screaming things like "Am I going to die? It's hurts!!!! I'm so scared!"
It wasn't until the girls were safely at my neighbor's and we were on our way to the hospital that I asked him what happened. "I don't want to tell you," he sobbed.
I looked at the hand towel, not knowing how badly he was cut, soaked with my son's blood and swallowed back fear and tears and said, "I just need to know, so I can help you. I'm pretty sure if it's your fault, you've already gotten your punishment."
He told me the whole story of using the dull little pocket knife to chip away at the tree bark when the knife closed in on his index finger. "I don't think there are such things as dull knives," he hiccuped. I didn't need to do much lecturing. Some lessons are learned the hard way.
We got to the hospital and my hubby met me from work. While the four pain shots were numbing my son's finger in preparation for the six stitches he would get, the doctor and my hubby swapped knife and stitches stories.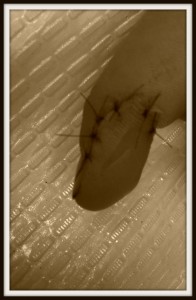 It was hilarious.
Only it wasn't because my son was bleeding all over the table.
I looked at the nurse and I said, "How many stitches have you had from playing with knives?"
"None," she smiled.
"Me either. Must be some rite of passage."
The good doctor and my hubby agreed.
On the way home, my husband called his father "Dad, remember that dull pocket knife from this summer……?"
My little boy only wanted to say one thing to his Grandpa when the phone was handed to him,
"Papa? I'm a man now."
My father -in-law responded, "Guess what I got you for Christmas?"