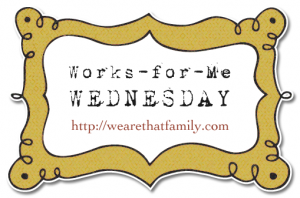 [Having trouble coming up with new tips every week? Join in with this week's suggested theme: Share a fall recipe! Feel free to link up older posts, too.]
I make a mean potato soup. The first time I made it, more than fifteen years ago, my new husband kept going back for refills. I had made enough to last us for a few days, but at the rate he was going, we wouldn't have any leftovers. When I told him so, he walked right over to the trash and poured the whole bowl in the can. That is affectionately referred to as The Potato Soup Fight.
Ingredients:
3-5 lb. potatoes, pared & diced
1 med. onion, chopped
2 chicken bouillon cubes/or can of chicken broth
8 slices bacon, very crisp
Salt, Pepper to taste
1/2 gal. milk
1 cup cheddar cheese
Boil potatoes, onion and bouillon cubes in just enough water to cover until potatoes are tender. Add milk. (I like to mash the potatoes once they are very tender). Thicken with cornstarch. Crumble bacon and add to soup, add cheese.
Now, go have your own fight!