Get your bidding fingers ready! Bright and early tomorrow morning (7 a.m. CST), Mercy Benefit Day will begin with THIRTY amazing auction items up for grabs! (Preview of items here).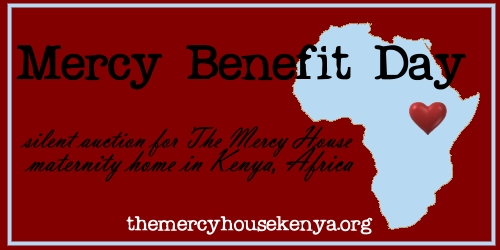 As a reminder, here are the rules:
To bid on an item in one (or all) of the posts, please leave a comment with your bid amount. Please leave a current email address in case you have the final bid. For example: "I love this! My bid is $37. My email is ilovemercy@gmail.com" If $37 is the HIGHEST amount bid for that item by the time the auctions close, YOU win and will be notified.
Winners will be announced on Jan. 19th and payment can be made via Paypal or by check. All bids close by 10pm CST on Jan. 18. There is no minimum bid.
* special thanks to Eryn and Sarah for all their help in preparing the auction posts!
100% of the proceeds from the Mercy Benefit Day will go to the work of Mercy House. The Mercy House exists to provide alternative options for pregnant girls living in the streets of Kenya. The Mercy House will aid them in nutrition, housing, prenatal care, counseling, Biblical teaching and job skills for sustainable living. The Mercy House has approved 501c3 status.
::::::::::::::::::::::::::::::::::::::::

Mercy House jewelry is being featured at (in)Spired Deals on (in)Courage! Visit and get a 30% off coupon!