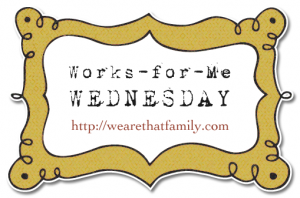 [Feel free to link up any helpful tips new or old posts, today's suggest WFMW theme is just a suggestion!]
While we were driving to Amarillo last week, I glanced over at the windshield and asked my hubby, "What does the 0 and 8 mean on that tag?"
He pulled over. Got out. Had a looksy.
"Well?' I asked.
"It means our inspection sticker expired 4 months ago."
Uh-oh.
"It means we have to get two new tires before our car passes inspection."
Uh-oh times two.
"It means this trip just got expensive."
We also spent 20 minutes looking for a current insurance card just in case we were pulled over. Because sometimes it happens that way.
Thankfully we found it and we didn't get pulled over. Like last time. Ahem.
All that to say? We stink at car maintenance. Our van is paid for and we want it to last forever. Looks like we need to get organized and work on that.
Any suggestions?