[Please feel free to link up any helpful tips! If you've run out of ideas, you can join in the suggested theme the first Wed. of each month. Today's theme is sharing one of your greatest tips. Link up old or new tips!]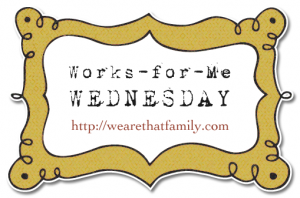 If I added up all the hours I've waited for a real, live, breathing person to answer my customer service phone calls, lo, they would be many.
And if I could recapture all those lost hours, my house would probably be clean.Or my laundry would be done.
Okay, maybe I'd just have some bonus Twitter time.
The point is, I wouldn't have an ear shaped like a cauliflower.
Recently, I discovered a very helpful website called Get Human.
And well, just like the name, the promise of speaking to a human on the phone is real. I can feel the tears welling up even now.
This comprehensive site has hundreds of phone numbers that help you bypass all the waiting and phone holding (not to mention the elevator music) with some helpful shortcuts.It almost makes me long for an excuse to speak with a customer service rep.
Almost.
Get Human, it works for me!
The first linky was corrupted-sorry everyone will have to reenter links!