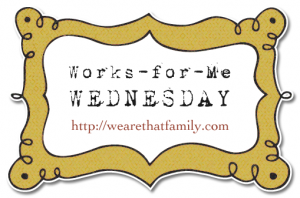 I like to organize. Clean? Eh. Notsomuch.
But it is necessary. Since we are dirty people.
Every Spring, I love to get the backyard cleaned up. We usually rake and pick up pine cones and plant some flowers. There's always a thick layer of pollen on everything and mildew on our concrete. Hello, humidity in Texas.
My tip: Clean your concrete (patio, driveway, porch) to remove ugly mildew or mold from winter's moisture.
Here's how:
You can pour bleach (with 3 parts water) and scrub with an old broom. It works well, but it's a lot of work.
A couple of years we rented a pressure washer for 24 hours and basically washed everything in site (including our dogs, kids and vehicles. It's called "getting your money's worth."
Two years ago we bought a basic pressure washer on clearance at Sam's. It's not as high tech as a professional one, but it does the job. Now we charge family to use it. So, basically, it's a small business opportunity. heh. just kidding. Except, you owe me (you know who you are).
Clearly, we have moved up in the world.
One of my favorite pictures: our true love etched in mildew: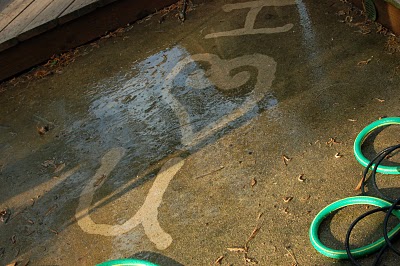 Spring cleaning works for me!