*Updated with Winners* Congrats to Kat and reader (no blog) Jessica! Everyone else, take advantage of this great discount:
P.S. If you want to just shop, use this code:  U28WATF15
It's good for 15% off any order and is valid thru MAY 31st.
—————————————–
Every time I write about marriage, I get emails. Confessionals, prayer requests, heartbreaking stories and testimonies of second chances.
People are still reading our marriage testimony series daily and I could write a book about it. Maybe I will someday.
My marriage is far from being perfect. Some days we don't even tip the scales to a good marriage. But we are committed for life and have no plans to stop trying and fighting for the marriage we really want.
I'm a better mom, daughter, person when my marriage is doing well.
Unknown to my hubby, I've decided to take the 30 Day Challenge because I have the ability to have a better marriage. We are living in a stressful environment right now and I tend to snap and bite his head off more in the tension. So, I definitely need it.
What is the 30 Day Challenge? …for the next 30 days:
* You can't say anything negative about your husband …to your husband…or to anyone else, about your husband.
* Say something that you admire or appreciate about your husband…to your husband…and to someone else, about your husband!
Day One:
"The heart of her husband safely trusts her; so he will have no lack of gain. She does him good and not evil all the days of her life." Prov. 31:11-12

To help you get started, have you ever thanked your husband for "choosing you" above all other women? He found you attractive as a person, and appreciated you. Though many circumstances in your marriage may have changed, let your husband know that you are glad God led you together, and that you want to be a blessing to him for the rest of your marriage. Let him know that he can trust you to be in his corner.

One of the best opportunities to express your gratitude is first thing in the morning. How do you greet your husband each morning? Is he confident in your love? Give him a "wake up call" that he'll never forget-a big "I love you" and an "I'm so glad I'm your wife!"
You can read ideas and encouragement for all thirty days here.
I love to partner with Union28 because they truly get the importance of encouragement in marriage. As a fun incentive, everyone who takes the challenge and leaves a comment on today's post, will be entered to win one of two of these adorable heart tees from Union28 (fitted and non) and also this beautiful marriage worship CD!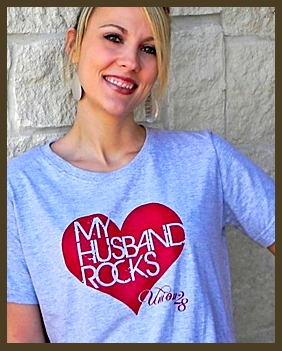 P.S. If you want to just shop, use this code:  U28WATF15
It's good for 15% off any order and is valid thru MAY 31st.
————————-
Related posts:
How to Really Have the Marriage You Want
How to Really Fight for Your Marriage
Are you in? I hope so. And remember, the victory is in the trying.