[I've shut down this giveaway in order to mail the books in time for Mother's Day!] Random comment winners: Sarah at Mommylogues, reader Maggie Ortiz, Meghan at Spicy Magnolia, and reader Heidi. Please send me your addresses a.s.a.p. so I can mail the signed books!
I shut the van door quickly, mentally making a note to send my kids back outside to clean up The Filth…a lost shoe, crumbs, a jacket, a Bible, a coat hanger and a Christmas ornament (??)
My arms were full as I balanced groceries, the dry-cleaned suit hanging on the door and a box of donations for Mercy House. I dumped it all in the entry and closed the laundry room door, so the piles of laundry that needed washing and folding would stop LOOKING AT ME.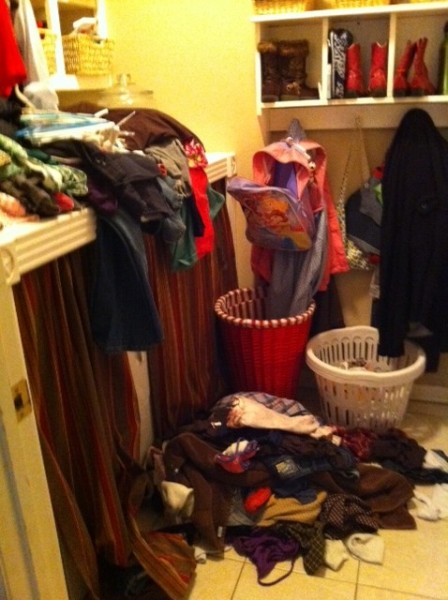 Look! an unedited picture
The youngest had her whine on and my son needed help with a school project. I set him in front of the computer (we use a lot of filters) to print out images of ferrets for his "pet project." [Y'all there is some scary stuff on Google images]. I ended up spending an unplanned 30 minutes printing out pictures for him.
About that time, the cat and dog started in on the daily Frenemy routine and knocked over a plant, the phone rang, I realized I never turned on the crock pot for dinner and a strange man was at the door.
CALGON. (Y'all are probably too young to remember, but that's what I wanted).
I ignored the phone, screamed at the pets, pulled out a box of macaroni and eye-balled the stranger from behind the column near the front door.
I debated whether I should answer it and pretend we weren't home. Because getting MUGGED was not on my to-do list. Heck, the last hour wasn't on my to-do list either.
But then my kids walked right passed me, blowing my cover and waved at the stranger.
I cautiously opened the door to a delivery guy with our Visas to Kenya. I sighed in relief-less from being mugged and more from getting our awaited documents.
And then the man said, "M'am? You might want to take your keys out of the door."
————————
Don't have it all together? Perfect. Tell me about a current MESS in your house and you'll be entered to win one of FOUR signed copies of my book Don't Make Me Come Up There!: Quiet Moments for Busy Moms
(delivered in time for Mother's Day to give or keep).
I'm also giving away one on Twitter today….follow here.
and one on Facebook….here.
Or you can purchase it for Mother's Day for only $9.15!