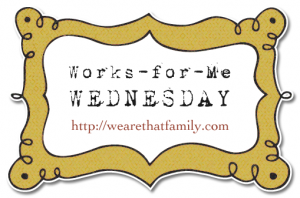 This is my favorite themed WFMW (all tips are welcomed, but we'd especially love your boredom buster tips this week!)
Because it never fails, my kids get bored in the summer.
Since we're spending the first 24 days of our summer in AFRICA, I haven't exactly planned for the rest of the summer. I plan on saying (a lot) "how can you be bored? I took you to the other side of the globe this summer!"
My best tip for this summer: have a family brainstorming session at the beginning of summer. Have each person write down a few things they'd like to do in the summer months-but give them these stipulations-it must be FREE and CREATIVE.
Place all the ideas in a jar and each week, pick a couple!
Here are the lists of hundreds and hundreds of summer boredom tips from the last few years:
You can read the WFMW guidelines here.