I stood in the kitchen a few night ago, the reality of what we are about to do, settling in. It wasn't a heaviness really, more like an O MY WORD slapping me upside the head.
I asked my hubby: "Why don't you think God asked someone else to do this? Ya know, like someone with a lot of money, someone who wouldn't have to believe for every dollar."
"Or someone who had global experience, older kids, an extrovert with a love for adventure (everything I'm not)."
My hubby hugged me. The O GOOD GRAVY feeling eased.
He didn't say a word. Because bottom line: God asked and we said yes.
And I do feel a lot of peace, especially when I remind myself He used a donkey once…..
I'm not bold. If you know me in real life, it's probably because you approached me. But from the very beginning when we shared this vision with you-still new and unfolding each day–we knew we could never do this alone. We knew we needed you.
Will you pray for us?
I don't like to over-spiritualize stuff, but in the last week, I've had a kidney infection, my mother-in-law had emergency gall-bladdar surgery, and today, my mom slipped on water and had to have 5 staples in her head (which I will be removing in Africa)-plus, my hubby's been out of town with his job (but on the way home now). Seriously?  I don't think it's a coincidence Maureen brought in our first girl today with two more needy, pregnant girls pending.
Please consider printing out this calendar/itinerary and ask God to use our simple family to encourage and equip the staff, to love on Maureen and the residents, to be Jesus' hands and feet….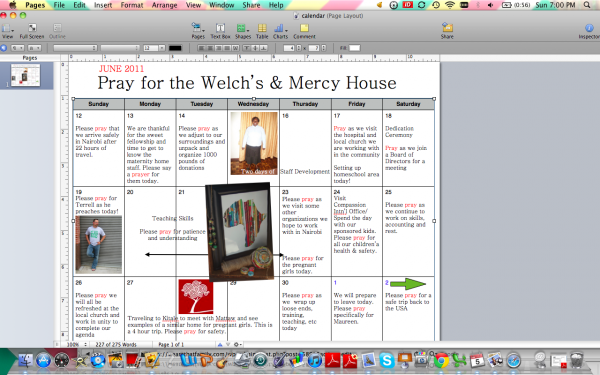 You can download and print the prayer calendar here:  Prayer Calendar
Thank you.