When I crouched my head and entered her small home, I had two thoughts: 1. I have too much 2. My kids need to see this.
I watched as the young mom made charcoal bricks from mud and crumbles of coal, laying them in the sun to dry. Later she would leave her 8 year old son to watch her 1 year old baby, so she could go and sell the the roasted corn she'd made over the charcoal to passers-by walking home from work.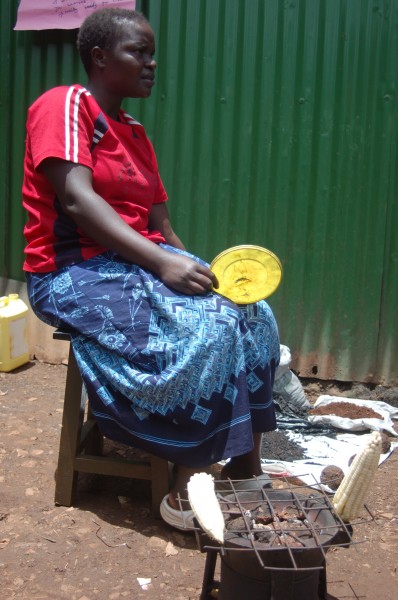 I've always loved missions. I sat rapt as an elementary girl, listening to missionaries tell stories at the annual Missions Convention our church hosted. My favorite memory: dressing up in clothes from different countries and tasting foods like baklava and curry. I remember driving home one evening telling my parents I wanted to be a missionary. My mom worried. My dad thrilled.
[I didn't understand my mom's reaction until I had kids of my own, now I completely get it].
As a teen I took trips with my youth group and then later with my youth pastor husband. I sort of lost my missions heart in the quest of the American Dream for a few years, finding it again when I began following the Compassion blogger trips several years ago.
I want my kids to love missions. I want them to have mental images of kids their age who live on the other side of the world. I want them to put God first, others second, themselves last.
We have spent the last year preparing our children's hearts for global missions. And tomorrow when we leave for Africa, we prepare to expose them physically to a different culture. Even if you don't plan to take your kids overseas immediately, you can begin to prepare them:
Incorporate Window On The World into your dinner-time routine. This book is suitable for families and gives a glimpse into different cultures.
Put a world map or globe in a heavy traffic area and talk about different parts of the world.
Pray for different countries when you pray together as a family.
Sponsor a child-hang their picture up, pray for them, write letters, make them a part of your family.
Share stories from books like Voices of Martyrs and Jesus Freaks: Stories of Those Who Stood for Jesus, the Ultimate Jesus Freaks. Often in an attempt to protect our kids, we shelter them too much. We can raise compassionate children by exposing them to a bit of grief in our world, while still protecting them from too much knowledge.
Try different foods from different countries: my kids love Ethiopian and Mediterranean food and will "try" just about anything (still working on the 4 year old)
Check out books from the library and teach them about different cultures.
Pray for God to prepare your heart and your feet as you contemplate visiting another country as a family. Pray together about this, often.
Be realistic: some kids (ages) do better than others. Don't force things upon them.
Explain to your kids that time and plans in other countries is much slower than our own fast-paced American culture. Talk about spiritual warfare and God's will, protection, safety and trust (this was huge when we recently weren't able to travel to Africa).
And lastly: Prepare your own parent heart: you might be raising a future missionary.